What are the signs of ADHD?
Written by:
Marcos Medina, UT Physicians
| Updated:
April 22, 2014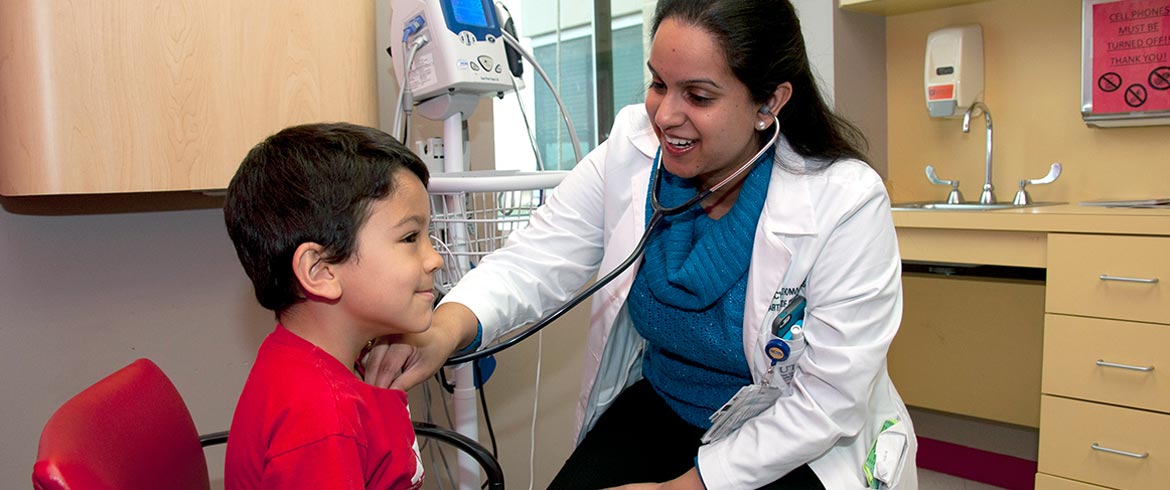 Related Healthcare Providers
Attention deficit hyperactivity disorder is a common childhood condition affecting roughly 8 percent of all children. The hallmarks of ADHD are difficulty paying attention, hyperactivity and high impulsivity.
To some extent, all of us have these qualities and this is especially true of young energetic children. Children with ADHD however, have subtle, genetic differences in brain chemistry and function that cause these qualities to be present to a point where the ability to learn and function are affected. To diagnose ADHD, symptoms have to present in more than one setting, start before the age of 12 years, last more than 6 months, and affect the child's performance. The symptoms should not be explainable by age or other medical conditions, such as vision or hearing problems, or lack of sleep.
ADHD has three types:
Hyperactive
Inattentive
Combined hyperactive and inattentive
It is more common in boys who tend to have hyperactive, or combined forms of ADHD whereas girls tend more to have the inattentive form of ADHD, spacing out, losing focus.
Symptoms of hyperactivity/impulsivity often appear by the age of 4 and include excessive fidgeting, trouble staying seated or playing quietly. The children might appear to be a motor that is always "on the go," talking excessively, interrupting others, or not waiting for a turn. In older children, hyperactivity may subside into a feeling of restlessness. There is an inability to control these behaviors, such that they may disrupt class, have difficulty getting along with other children, or not perform well in school despite being bright and generally "good" kids.
Features of inattention are usually seen at about age 8 and include a tendency to daydream and not stay focused. Children with inattentive version of ADHD seem to not listen and make careless mistakes. They may be easily distracted, lose things, or not complete tasks.
All children with ADHD have difficulty organizing and prioritizing their work, making school work a challenge, particularly in higher grades. Frequently, there are other associated conditions like learning disabilities, anxiety, depression, and more severe behavior problems. It is easy to understand how living with undiagnosed ADHD can cause a child to become anxious, or generate low self-esteem.
The symptoms of ADHD are present in the majority of children to varying degrees at different times. The difference is the symptoms' persistence and a seeming inability for the child to control them such that their grades drop and parents may start to appreciate a disconnect between ability/intention and results/performance.
The diagnosis involves a consultation with your pediatrician. Evaluation takes patience and input from parents and teachers over a period of time, completing standard rating scales, ruling out medical problems, and checking for associated learning and emotional problems. This is neither a quick and easy diagnosis, nor a quick and easy treatment. However, the goal is to make sure that the diagnosis is correct and then to comprehensively address all of the issues.
Behavior strategies are very helpful at home and in school and are recommended as the first approach to managing younger children (ages 4–6 years). The first step is to accept the child and build success and confidence. It is helpful to have a simple and consistent structure to the day with regular sleep/meal schedules. Help the child become more organized and provide a hobby that the child enjoys. Write up simple goals, perhaps one per week. Reinforce good behavior with hugs and sticker charts. Some attention building activities include one-one reading and doing puzzles or playing games. Provide a channel for the boundless energy with appropriate and reasonable activities. Avoiding the pitfall of frequent criticism is important.
At school, smaller classrooms, a knowledgeable teacher, and a routine that suits the child can be very helpful. Have the child sit in the front of the class to promote frequent eye contact with the teacher. Consider having the child evaluated for a learning disability/dyslexia if needed. Public schools can provide an evaluation as well as a tailored program, if learning problems are identified.
Finding the route to academic success is important as ADHD and learning disabilities in no way suggest that the child is not intelligent. They may just not thrive in a "one size fits all" mold. Many parents try dietary modifications, which may only benefit those with sensitivities to food. Behavioral therapists can be very helpful in suggesting strategies for home and school to parents and children.
Finally, medications are proven to be very helpful. Understandably, it is often not the parent's first choice. There are many medications that have been studied and found effective in the management of ADHD. The choice of medication and dosage is very individualized and needs monitoring and regular follow-up. The provider, parents, and teacher should all be involved in the process to make sure the goal is met, which is for the child to thrive in all ways.