UT Physicians EP Heart – Complex Arrhythmia Center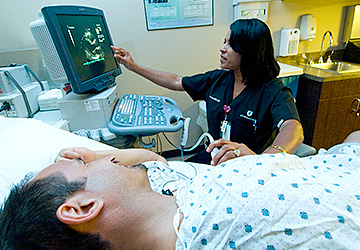 ---
Memorial Hermann Medical Plaza – Texas Medical Center
Physicians & Health Care Team
About
Services provided:
Holter monitoring
Cardiac Event monitoring
T wave alternans evaluation
Cardiac catheterization and Electrophysiology Study
Evaluation and treatment of the entire range of cardiac arrhythmias including catheter ablation of atrial fibrillation, supraventricular tachycardias, and ventricular tachycardia.
Ablation of supraventricular and ventricular arrhythmias including transseptal catheterization and pulmonary vein isolation and ablation of ventricular tachycardia.
Evaluation and treatment of syncope
Implantation of permanent pacemakers
Implantation of cardiac defibrillators
Cardiac resynchronization therapy
Clinical research studies
Preparing for Your EP Test or Treatment
Most of the procedures are performed under conscious-sedation anesthesia. Your doctor will discuss in detail the type of anesthesia your procedure will require. The electrophysiologist and nurses will monitor your heart rate, blood pressure, breathing, blood oxygen levels and heart rhythms at all times. Your doctor will give you specific details about your particular test or treatment. It's very important that you do not eat or drink anything after midnight the day before your EP test or treatment. Please check in with Admissions at the time given to you by your physician. Following a procedure, most EP patients stay overnight in the hospital. You should be ready to go home the next day.
The Memorial Hermann Medical Plaza Building is located at the North end of the Texas Medical Center. The parking garage is easy to get to from any direction with entrances from both Fannin and Main.
Visitor parking is available 24 hours. Valet services are available from 7:00 am to 6:00 pm Monday through Friday except holidays.