Food Drive at UT Physicians locations
Written by:
Melissa McDonald, UT Physicians
| Updated:
November 22, 2019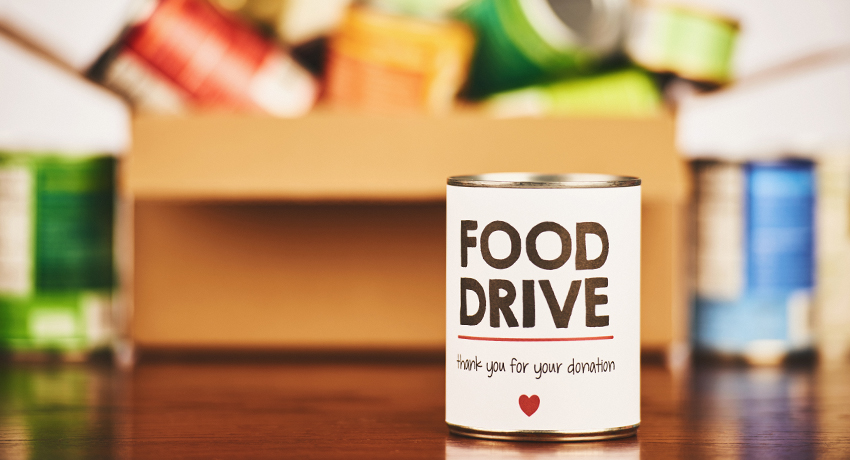 The Houston Food Bank is a valued collaborator with UT Physicians. Together, we have teamed up over the years to provide no-cost health care screenings and food to communities across Greater Houston.
From now until Dec. 20, UT Physicians will be collecting nonperishable food items at our locations across the city.
"The need is huge in our community," said Andrew Casas, chief operating officer of UT Physicians. "We want to be part of a meaningful drive to help put food on the table for the holidays. It's our mission to not only provide improved access to health care, but also join community efforts to support people in other ways."
The most needed items by the Houston Food Bank include:
Canned vegetables (beans, green beans, mixed vegetables (low sodium or no sodium)
Canned crushed tomatoes or tomato sauce (low sodium or no sodium)
Canned fruits (peaches, pears, mandarin oranges, mixed fruit (in 100% juice, no added sugar)
Canned tuna (no sodium added or in water)
Canned chicken (no sodium added or in water)
Cereal (low sugar option)
Whole wheat pasta
Peanut butter (no added sugar)
Unsalted nuts (walnuts or almonds)
Donation boxes will be available in each lobby area of UT Physicians clinics. Here is a complete list of locations:
Bellaire
| | | | |
| --- | --- | --- | --- |
| UT Physicians Cardiothoracic & Vascular Surgery – Bellaire | 6700 West Loop South | Suite 110 | Bellaire, TX 77401 |
| UT Physicians Center for Healthy Aging – Bellaire | 6700 West Loop South | Suite 130 | Bellaire, TX 77401 |
| UT Physicians Minimally Invasive Surgeons of Texas (UTMIST) | 6700 West Loop South | Suite 500 | Bellaire, TX 77401 |
| UT Physicians Multispecialty – Bellaire | 6700 West Loop South | Suite 520 | Bellaire, TX 77401 |
| UT Physicians Orthopedics at Memorial Hermann Orthopedic and Spine Hospital | 5420 West Loop South | Suite 2400 | Bellaire, TX 77401 |
| UT Physicians Physical Medicine & Rehabilitation Sports Medicine & Spine Clinic | 5420 West Loop South | Suite 1100 | Bellaire, TX 77401 |
| UT Physicians Women's Center – Bellaire | 6700 West Loop South | Suite 450 | Bellaire, TX 77401 |
Houston
| | | | |
| --- | --- | --- | --- |
| UT Physicians Advanced Heart Failure and Transplant Surgery Clinic – Webster | 1200 Binz Street | Suite 850 | Houston, TX 77004 |
| UT Physicians Women's Center – Greater Heights | 1740 West 27th | Suite 100 | Houston, TX 77008 |
| UT Physicians Cardiothoracic & Vascular Surgery – Katy | 1740 West 27th Street | Suite 100 | Houston, TX 77008 |
| UT Physicians Center for Autoimmunity | 1740 West 27th St. | Suite 100 | Houston, TX 77008 |
| UT Physicians Multispecialty – The Heights | 925 North Shepherd Drive | | Houston, TX 77008 |
| UT Physicians Cardiothoracic & Vascular Surgery – Memorial City | 915 Gessner Road | Suite 585 | Houston, TX 77024 |
| UT Physicians Colon & Rectal Clinic – Memorial City | 915 Gessner Road | Suite 600 | Houston, TX 77024 |
| UT Physicians Gynecologic Oncology – Memorial City | 915 Gessner Road | Suite 400 | Houston, TX 77024 |
| UT Physicians Maternal-Fetal Medicine Center – Memorial City | 929 Gessner Road | Suite 1390 | Houston, TX 77024 |
| UT Physicians Neurology – Memorial City | 929 Gessner | Suite 2410 | Houston, TX 77024 |
| UT Physicians Orthopedics at Ironman Sports Medicine Institute – Memorial City | 10125 Katy Freeway | Suite 100 | Houston, TX 77024 |
| UT Physicians Pediatric Center – Memorial City | 929 Gessner Road | Suite 2440 | Houston, TX 77024 |
| UT Physicians Pediatric Surgery – Memorial City | 915 Gessner | Suite 915 | Houston, TX 77024 |
| UT Physicians Women's Center – Memorial City | 929 Gessner Road | Suite 1300 | Houston, TX 77024 |
| UT Physicians Adult Hematology – Texas Medical Center | 6400 Fannin Street | Suite 2900 | Houston, TX 77030 |
| UT Physicians Cardiothoracic & Vascular Surgery – Texas Medical Center | 6400 Fannin Street | Suite 2850 | Houston, TX 77030 |
| UT Physicians Center for Autoimmunity | 6410 Fannin Street | Suite 450 | Houston, TX 77030 |
| UT Physicians Adult Congenital Heart Disease Clinic | 6550 Fannin Street | Suite 2307 | Houston, TX 77030 |
| UT Physicians Cardiology – Texas Medical Center | 6655 Travis Street | Suite 700 | Houston, TX 77030 |
| UT Physicians Cardiothoracic & Vascular Surgery – Bellaire | 6410 Fannin Street | Suite 600 | Houston, TX 77030 |
| UT Physicians Cardiothoracic & Vascular Surgery – Sugar Land | 6400 Fannin Street | Suite 2550 | Houston, TX 77030 |
| UT Physicians General Surgery – Texas Medical Center | 6410 Fannin Street | Suite 1400 | Houston, TX 77030 |
| UT Physicians Gulf States Hemophilia and Thrombophilia Center – Texas Medical Center | 6655 Travis Street | Suite 100 | Houston, TX 77030 |
| UT Physicians Internal Medicine – Texas Medical Center | 6410 Fannin Street | Suite 600 | Houston, TX 77030 |
| UT Physicians Maternal-Fetal Medicine Center – Texas Medical Center | 6410 Fannin Street | Suite 360 | Houston, TX 77030 |
| UT Physicians Neurology -Texas Medical Center | 6410 Fannin Street | Suite 1014 | Houston, TX 77030 |
| UT Physicians Orthopedics – Texas Medical Center | 6400 Fannin Street | Suite 2250 | Houston, TX 77030 |
| UT Physicians Orthopedics at Ironman Sports Medicine Institute-TMC | 6400 Fannin Street | Suite 1700 | Houston, TX 77030 |
| UT Physicians Orthopedics Trauma Clinic | 6414 Fannin Street | Suite G150 | Houston, TX 77030 |
| UT Physicians Otorhinolaryngology – Texas Medical Center | 6400 Fannin Street | Suite 2700 | Houston, TX 77030 |
| UT Physicians Pediatric Center Cardiology – Texas Medical Center | 6410 Fannin Street | Suite 370 | Houston, TX 77030 |
| UT Physicians Pediatric Center for Autism and Related Conditions | 6655 Travis Street | Suite 800 | Houston, TX 77030 |
| UT Physicians Pediatric Primary Care – Texas Medical Center | 6410 Fannin Street | Suite 500 | Houston, TX 77030 |
| UT Physicians Pediatric Surgery – Texas Medical Center | 6410 Fannin Street | Suite 950 | Houston, TX 77030 |
| UT Physicians Primary Care at Smith Tower – Texas Medical Center | 6550 Fannin Street | Suite 2339 | Houston, TX 77030 |
| UT Physicians Urology – Texas Medical Center | 6410 Fannin Street | Suite 420 | Houston, TX 77030 |
| UT Physicians Women's Center – Texas Medical Center | 6410 Fannin Street | Suite 250 | Houston, TX 77030 |
| UT Physicians Otorhinolaryngology – Bellaire | 9999 Bellaire Boulevard | Suite 760 | Houston, TX 77036 |
| UT Physicians Orthopedics – Memorial Westside | 1140 Business Center Drive | Suite 101 | Houston, TX 77043 |
| UT Physicians Gynecologic Oncology – One Fannin | 7400 Fannin Street | Suite 770 | Houston, TX 77054 |
| UT Physicians Maternal-Fetal Medicine Center – One Fannin | 7400 Fannin Street | Suite 770 | Houston, TX 77054 |
| UT Physicians Neurocognitive Disorders Center | 1941 East Road | Suite 4358 | Houston, TX 77054 |
| UT Physicians Pediatric Center – One Fannin | 7400 Fannin Street | Suite 940 | Houston, TX 77054 |
| UT Physicians Pediatric Surgery at One Fannin – Texas Medical Center | 7400 Fannin Street | Suite 940 | Houston, TX 77054 |
| UT Physicians Psychiatry Outpatient Clinic-BBSB | 1941 East Road | Suite 2100 | Houston, TX 77054 |
| UT Physicians Pediatric Center – Bay Area | 17150 El Camino Real | | Houston, TX 77058 |
| UT Physicians Multispecialty – Bayshore | 11476 Space Center Boulevard | Suite 100 | Houston, TX 77059 |
| UT Physicians Multispecialty – Greens | 550 Greens Parkway | Suite 150 | Houston, TX 77067 |
| UT Physicians Cardiothoracic & Vascular Surgery – Southeast | 102 Vintage Park Boulevard | Suite E | Houston, TX 77070 |
| UT Physicians Multispecialty – International District | 10623 Bellaire Boulevard | Suite C280 | Houston, TX 77072 |
| UT Physicians Orthopedics- Southwest | 7789 Southwest Freeway | Suite 540 | Houston, TX 77074 |
| UT Physicians Multispecialty – Dashwood | 5420 Dashwood Drive | Suite 102 | Houston, TX 77081 |
| UT Physicians Multispecialty – Victory | 7364 Antoine Drive | | Houston, TX 77088 |
| UT Physicians Center for Advanced Heart Failure – Southeast | 11920 Astoria Boulevard | Suite 400 | Houston, TX 77089 |
| UT Physicians Cardiothoracic & Vascular Surgery – Southeast | 11914 Astoria Boulevard | Suite 320 | Houston, TX 77089 |
| UT Physicians Cardiothoracic & Vascular Surgery II – Southeast | 11914 Astoria Boulevard | Suite 280 | Houston, TX 77089 |
| UT Physicians Center for Advanced Heart Failure – Southeast | 11920 Astoria Boulevard | Suite 330 | Houston, TX 77089 |
| UT Physicians Cardiothoracic & Vascular Surgery – Memorial City | 11920 Astoria Boulevard | Suite 470 | Houston, TX 77089 |
| UT Physicians Center for Healthy Aging – Bellaire | 11920 Astoria Boulevard | Suite 460 | Houston, TX 77089 |
| UT Physicians General Surgery I – Southeast | 11914 Astoria Boulevard | Suite 260 | Houston, TX 77089 |
| UT Physicians Gynecologic Oncology – Southeast | 11914 Astoria Boulevard | Suite 510 | Houston, TX 77089 |
| UT Physicians Orthopedics – Southeast | 11914 Astoria Boulevard | Suite 670 | Houston, TX 77089 |
| UT Physicians Otorhinolaryngology – Southeast Houston | 11914 Astoria Boulevard | Suite 670 | Houston, TX 77089 |
| UT Physicians Colon & Rectal Clinic – Peakwood | 800 Peakwood Drive | Suite 2C | Houston, TX 77090 |
| UT Physicians Multispecialty – Jensen | 2620 East Crosstimbers Street | Suite 100 | Houston, TX 77093 |
Humble
| | | | |
| --- | --- | --- | --- |
| UT Physicians Orthopedics – Atascocita | 18411 W. Lake Houston Parkway | Suite 550 | Humble, TX 77346 |
| UT Physicians Orthopedics – Fall Creek | 9522 N. Sam Houston Parkway E | Suite 2350 | Humble, TX 77396 |
Katy
| | | | |
| --- | --- | --- | --- |
| UT Physicians Orthopedics – Kingsland | 21222 Kingsland Boulevard | | Katy, TX 77450 |
| UT Physicians Cardiothoracic & Vascular Surgery – Katy | 23920 Katy Freeway | Suite 400 | Katy, TX 77494 |
| UT Physicians Minimally Invasive Surgeons of Texas (UTMIST) – Katy | 23920 Katy Freeway | Suite 150 | Katy, TX 77494 |
| UT Physicians Multispecialty – Cinco Ranch | 23923 Cinco Ranch Boulevard | | Katy, TX 77494 |
| UT Physicians Orthopedics – Katy | 23910 Katy Freeway | Suite 201 | Katy, TX 77494 |
| UT Physicians Pediatric Center – Cinco Ranch | 10450 Spring Green Boulevard | Suite B | Katy, TX 77494 |
| UT Physicians Pediatric Center – Katy | 23920 Katy Freeway | Suite 220 | Katy, TX 77494 |
Pearland
| | | | |
| --- | --- | --- | --- |
| UT Physicians Orthopedics – Pearland | 10905 Memorial Hermann Drive | Suite 130 | Pearland, TX 77584 |
| UT Physicians Orthopedics – Pearland II | 10905 Memorial Hermann Drive | Suite 120 | Pearland, TX 77584 |
| UT Physicians Women's Center – Pearland | 10905 Memorial Hermann Drive | Suite 211 | Pearland, TX 77584 |
| UT Physicians Multispecialty – Rosenberg | 5115 Avenue H | Suite 701 | Rosenberg, TX 77471 |
Southeast Texas
| | | | |
| --- | --- | --- | --- |
| UT Physicians Multispecialty – Beaumont | 3610 Stagg Drive | | Beaumont, TX 77701 |
Sugar Land / Missouri City
| | | | |
| --- | --- | --- | --- |
| UT Physicians Orthopedics – Sugar Land | 15035 Southwest Freeway | | Sugar Land, TX 77478 |
| UT Physicians Cardiothoracic & Vascular Surgery – Sugar Land | 17150 W. Grand Parkway South | Suite 450 | Sugar Land, TX 77479 |
| UT Physicians Colon & Rectal Clinic – Sugar Land | 17510 W. Grand Parkway | Suite 450 | Sugar Land, TX 77479 |
| UT Physicians General Surgery – Sugar Land | 17510 West Grand Parkway South | Suite 450 | Sugar Land, TX 77479 |
| UT Physicians Orthopedics Ironman Sports Medicine Institute – Sugar Land | 17520 West Grand Parkway South | Suite 200 | Sugar Land, TX 77479 |
| UT Physicians Pediatric Center – Sugar Land | 17510 West Grand Parkway South | Suite 550 | Sugar Land, TX 77479 |
| UT Physicians Multispecialty – Sienna | 8810 Highway 6 | Suite 100 | Missouri City, TX 77459 |
| UT Physicians Women's Center – Sugar Land | 17510 West Grand Parkway South | Suite 430 | Sugar Land, TX 77479 |
The Woodlands
| | | | |
| --- | --- | --- | --- |
| UT Physicians Adult Hematology – Texas Medical Center | 9200 Pinecroft Drive | Suite 320 | The Woodlands, TX 77380 |
| UT Physicians Neurology – The Woodlands | 9180 Pine Croft | Suite 500 | The Woodlands, TX 77380 |
| UT Physicians Orthopedics at Ironman Sports Medicine Institute – The Woodlands | 9305 Pinecroft Drive | Suite 400 | The Woodlands, TX 77380 |
| UT Physicians Otorhinolaryngology – The Woodlands | 9200 Pinecroft | Suite 425 | The Woodlands, TX 77380 |
| UT Physicians Pediatric Center – The Woodlands | 920 Medical Plaza Drive | Suite 140 | The Woodlands, TX 77380 |
| UT Physicians Physical Medicine & Rehabilitation – The Woodlands | 9180 Pinecroft | Suite 420 | The Woodlands, TX 77380 |
| UT Physicians Cardiothoracic & Vascular Surgery – Texas Medical Center | 9180 Pinecroft | Suite 420 | The Woodlands, TX 77384 |