After giving birth to their first child over 16 years ago, Josh and Crystal Williams were in heaven. After a somewhat long labor with an easy delivery, all seemed perfect. It wasn't until 12 hours after welcoming Skye into the world things began to change quite suddenly.
While breastfeeding, Skye began to turn blue and lost her ability to latch. Immediately, a nurse stepped in to assess the dire situation that would soon get much worse.
"I had a healthy baby, and now suddenly she wasn't breathing anymore," shared Crystal.
Thankfully, she was soon revived and sent off for scans to determine the root cause of her health scare. The results were quick and conclusive — Skye had suffered a stroke during the birthing process that went unnoticed until it caused her first seizure.
Although knowing what was wrong with their baby girl seemed like a good first step, the problem seemed insurmountable at the time. Following her first seizure, Skye continued to have epileptic episodes that wouldn't stop.
"I felt like hell had broken loose. For something like this to happen to your baby before you even get a chance to leave the hospital, it's truly a nightmare," recalled Crystal.
It wasn't until two weeks after her birth Crystal and her husband could finally bring home their first child.
Living with epilepsy
For the first few years of her life, Skye remained on medication to control her seizures. However, after her fifth birthday, her neurologist recommended weaning her off all epilepsy drugs to determine if they were still necessary. Due to her infantile stroke, her electroencephalogram (EEG) results would never return as normal. There was no other way of knowing if her seizures had resolved over time.
For a while, Skye seemed fine — unaffected by her lack of medication. The only indication something may have been wrong was her behavior at school.
"Her grades were struggling and she couldn't recall if we asked what they studied that day. We would get calls from school saying that she was standing there and nothing could catch her attention," said Crystal. "Being a parent, I didn't want to believe that this was happening again."
Definitive proof of the return of Skye's seizures came one night at the theater. During a particular scene with a lot of lights, Crystal noticed her daughter's arm begin to shake and her head started to jerk to the side.
"Her eyes were moving so frantically, I knew exactly what was happening and called her neurologist for an appointment," she said.
After their visit, it was decided medication was once again necessary to regulate Skye's epilepsy. Unfortunately, it proved to be challenging to determine the correct dosage to eliminate them. Over the next few years, she experienced multiple seizures a week with no known triggers to avoid.
The worst episode happened in 2019 — a day Crystal describes as a nightmare come to life. Skye had been to a sleepover — a rite of passage for every teenage girl. As a result, she had missed a few doses of her prescribed medication. Once she was home, she began to experience several tonic-clonic seizures. Tonic-clonic seizures, also referred to as grand mal seizures, can involve extreme muscle contractions and a loss of consciousness.
Needing immediate care, Crystal brought her to the hospital. Accessing the situation, the attending neurologist advised more specialized care was needed to manage Skye's condition. Being from a small town in Louisiana, the doctor suggested the experts at UT Physicians in the Texas Medical Center.
"We knew we could go to New Orleans, but we decided to take the doctor's advice and we chose Houston," said Crystal. "That decision led to our dreams coming true."
Meeting the team
First up on Skye's care team was Manish N. Shah, MD, pediatric neurosurgeon at UT Physicians, and his talented staff.
"Skye was presenting with medically refractory epilepsy, meaning her seizures were not responding to medication," said Shah, associate professor of pediatric neurosurgery at McGovern Medical School at UTHealth Houston. "The work-up to determine the best option of care for these children must be done at an experienced center like UT Physicians and Children's Memorial Hermann Hospital."
Unfortunately, the best option of care for Skye scared Crystal and Josh to their core. Brain surgery.
"It was another nightmare for us as parents, but Dr. Shah and his team were so amazing and put us at ease," said Crystal. "They were there to actually talk to us, answer our questions, and show us they cared."
One member of Shah's team was particularly special to the Williams family as they started the prepping process for surgery, Vianey Leang, RN, clinical care coordinator.
"Vianey was so amazing. For such a big practice with so many patients, she always made us feel special and returned our calls quickly," shared Crystal.
During this process, Crystal, Josh, and Skye would travel back and forth from Duson, Louisiana, to the Texas Medical Center, roughly a three-hour drive each way.
Surgery was scheduled for September 2020. While Skye was calm, both parents were deeply anxious knowing their daughter was about to undergo a major operation.
In total, the procedure took approximately four hours, during which the Williams family and friends prayed.
"For Skye's surgery, we disconnected the back left quarter of her brain — the part that the epilepsy was coming from — from the remainder of the brain," said Shah. "This is called a disconnection surgery."
During disconnection surgery, the nerve pathways through which the seizure impulses are able to travel to the remainder of the brain are severed.
Recovery consisted of rest, headaches — expected after brain surgery, and a few extra stitches to revise her incision. Absent were the extreme seizures she came to know all too well throughout her lifetime.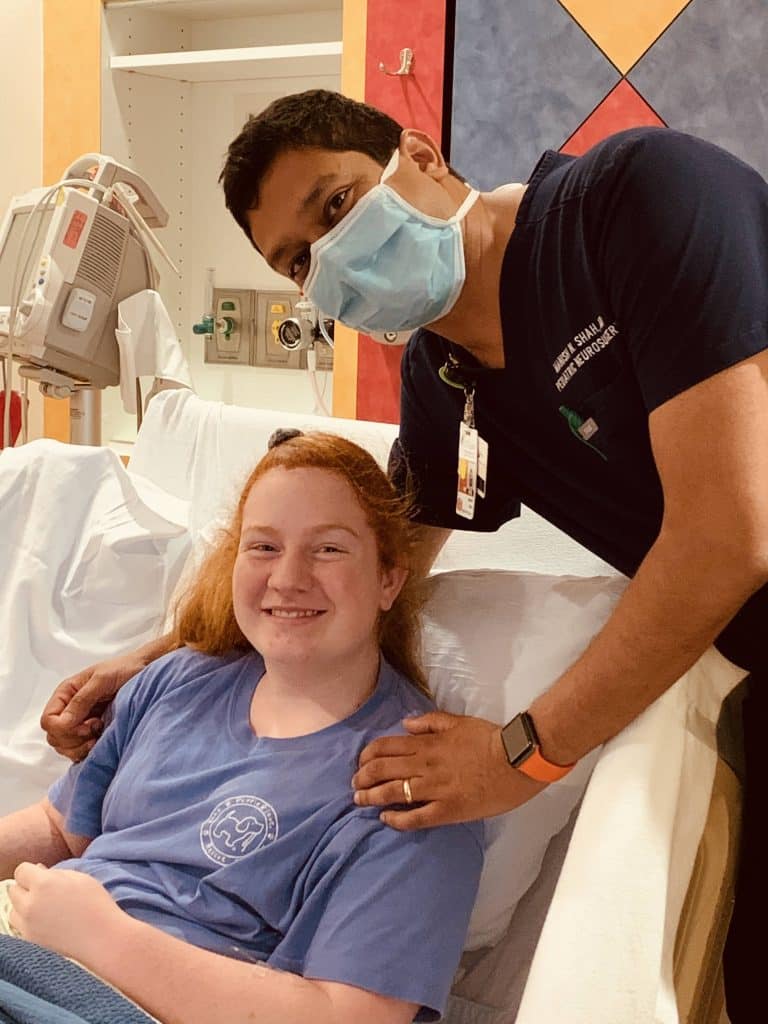 Becoming seizure-free
Skye has been officially seizure-free for over one year, thanks to Shah and his expert team. Her life now revolves around high school, friends, and being able to drive — something she never dreamed she could do.
"Epilepsy was such a big part of our lives; I don't think others could understand that," shared Crystal. "I can't thank Dr. Shah enough. This has changed my daughter's entire life."
Shah considers it a privilege to have helped Skye and children just like her who come from all over the world or right here in Houston.
"Skye and her family are truly wonderful," said Shah. "Her picture is prominently displayed on our picture board in our clinic as a reminder of the connections we make and the lives we've touched."
For more information on UT Physicians Pediatric Surgery, visit their page.