As the clinical practice of McGovern Medical School at UTHealth, UT Physicians provides multispecialty care for the entire family at locations across the Greater Houston area. What does this mean for you and your loved ones? You are receiving exceptional care from experts who are conducting research and training the next generation of health care providers. You can see that alignment in our current logo with UT Physicians, A Part of UTHealth, but going forward, the practice will be raising the visibility of that valued relationship.
Combined strength of a university
"Our strength is found in our collaborations within the university," said Andrew Casas, senior vice president of UTHealth and chief operating officer of UT
Physicians. "That has never been more apparent than during the COVID-19 pandemic. We have health care workers on the front line, we graduated new generations of care team members a few months ago, and there are UTHealth researchers actively seeking out new treatments and providing data associated with the coronavirus. While the circumstance is not one we would ever want to experience, it has been encouraging to participate at so many levels with our colleagues to produce answers to help not only our employees but also the community."
As a nod to our strength as part of the university, you will see the UTHealth logo become more prominent in our clinics. The UTHealth logo will be featured with the UT Physicians logo—which has been a trusted brand in the community since 2005.
A clinical practice of a medical school
What is a clinical practice of a medical school? We hear that question often. UT Physicians is staffed by providers and other members of the health care teams that comprise the faculty of McGovern Medical School.
McGovern Medical School is the seventh-largest medical school in the United States. Located in the heart of the Texas Medical Center, the school was established by the Texas Legislature in 1969 to address the shortages of physicians and the then-untapped resources for medical education in Houston.
With nearly 1,000 medical students and a similar number of residents and fellows, McGovern Medical School is one of the largest and most diverse medical schools in the country. Students have access to the latest technology and are taught with an emphasis on humanities, ethics, patient quality, and safety.
A personal journey back to academics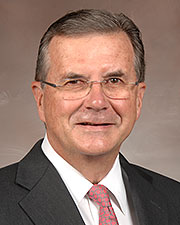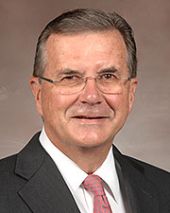 Thomas Murphy, MD, assistant dean for health policy at McGovern Medical School at UTHealth and chief medical officer for community-based clinics at UT Physicians, explains why he pursued a career in academic medicine.
"The easiest answer was something was missing in my day-to-day practice of medicine," Murphy said. "Being part of the UT Physicians group provides a large team of care providers working in concert for the best clinical outcome for the patient. We utilize the same electronic medical record—providing a continuity and quality of care not otherwise possible. Building relationships with the physicians in the group furthers the ease of a coordinated and collaborative approach to medical problem solving. The patients are aware of this as well. The brand in the community is strong, very highly respected, and trusted."
COVID-19 shines a bright light on the critical importance of academic medicine as the leader in care and research, according to Murphy. "Interactions between thought leaders, researchers, and clinicians is constant in this academic environment. We know immediately the optimal treatments for this novel virus—not having to wait days or weeks to learn. No other entity than the practice arm of an academic medical school could do this. There are other large group practices, but none are able to forge and wield the tools necessary to combat this and other diseases. In these uncertain times, our patients can be confident that the UT Physicians academic medical practice will deliver state-of-the-art medical care."
One of six schools that forms UTHealth Houston
As the group practice for McGovern Medical School, UT Physicians is part of UTHealth Houston. Established in 1972 by The University of Texas System Board of Regents, The University of Texas Health Science Center at Houston (UTHealth) is a resource for health care education, innovation, scientific discovery, and excellence in patient care. UTHealth is home to Cizik School of Nursing, McGovern Medical School, and schools of biomedical informatics, biomedical sciences, dentistry, and public health. UTHealth includes the UTHealth Harris County Psychiatric Center, as well as UT Physicians, UT Dentists, and UT Health Services. The university's primary teaching hospitals are Memorial Hermann-Texas Medical Center, Children's Memorial Hermann Hospital, and Harris Health Lyndon B. Johnson Hospital.
New look, same care
So the next time you are in a clinic, you will see this shared look between the practice and UTHealth. You may be wondering what the UTHealth symbol means. We refer to that as the tapestry. There are six threads that weave it together. The threads represent the six schools of the university—one of which is McGovern Medical School that is home to our physicians and staff.
Together. Stronger. And, a trusted source in health care for you and your family.