Memorial Hermann Cancer Center – Northeast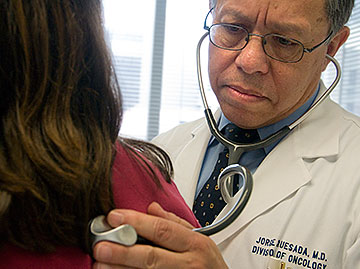 ---
Memorial Hermann Northeast Medical Plaza 4
Physicians & Health Care Team
About
Please note: Memorial Hermann Cancer Center – Northeast is not run or operated by UT Physicians.
Our highly skilled team of physicians with the McGovern Medical School at UTHealth improve survival rates and quality of life for people with cancer. Through diagnosis based on extensive knowledge and treatment delivered using advanced technology, we provide exceptional, effective care.
The state-of-the-art cancer center introduces cutting-edge clinical capabilities, physician expertise and services within a fully integrated space that promotes holistic care and healing. The facility is designed to provide a highly-personalized and comforting environment to support the needs of patients throughout the continuum of care with private treatment suites and counselor guidance during every step of the process.
We specialize in the following cancers:
Breast
Colon and rectal
Ovarian, cervical and uterine
Head and neck
Kidney
Lung
Prostate
Thyroid
Our treatment services include:
Breast center
Imaging
Surgical oncology
Medical oncology
Radiation oncology
Clinical trials
Inpatient oncology unit
Our support services include:
Cancer exercise specialist
Genetic counseling
Tumor board
Cancer registry
Psychosocial counseling and support
Lymphedema services
Spiritual care
Nutritional counseling
Support groups
Physical and rehabilitation services
Pain management