Obesity Medicine and Metabolic Performance​
Every patient at COMMP receives a personalized program that aims to not only optimize weight loss but to improve overall health. The initial steps into the COMMP experience include: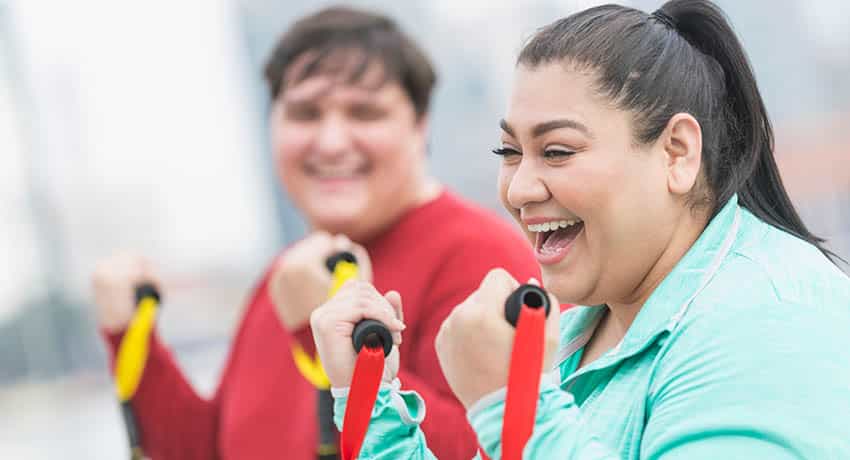 Step 1: Attend New to COMMP, an introductory nutrition class
New to COMMP is a required 60-minute class taught by one of our expert dietitians or physicians. During this class, you will learn basic information about nutrition that is essential to your success at COMMP. A $150 program fee is due at the start of your class and includes two physical activity instruction classes.
Temporary reduced program fee of $50. Due to COVID-19 safety measures, our in-person classes are currently suspended. Since your New To COMMP educational class is still required prior to your first physician visit, it can be done in-person or through our telemedicine platform. If you choose the telemedicine visit option you will complete the educational material with a COMMP provider virtually just as if you were in clinic with us. Our Patient Centered Physical Activity (PCPA) classes will resume when safe. Until that time, patients will be given handouts to get started on the PCPA exercises.
The New to COMMP class is the first step along your journey to better health. We will be with you every step of the way.
The class is an opportunity to learn the fundamentals of nutrition in an intimate classroom setting. We want all of our patients to have the same knowledge base prior to starting.
Have a diet question? Great! We want you to ask questions! This is your chance to learn the essentials of nutrition from your expert COMMP dietitian or physician. Class usually lasts 45-60 minutes. Taking the class is a prerequisite to setting up your physician appointment.
During the class, we will review:
Macronutrient basics
Portion control and meal examples
Use of meal replacements 1
Tracking nutrition
Structure of the COMMP center
We will provide you with your own COMMP notebook filled with comprehensive resources to begin tracking your nutrition and creating meals, as well as a brief assignment to get you ready for the next step. It's easy, and we're here to help!
Step 2: Your first medical visit with a COMMP physician
You will have a comprehensive visit with one of our obesity medicine specialists. During the visit, you will complete your first body composition analysis to assess the ratio of fat to muscle and an EKG (electrocardiogram) to check the electrical activity of the heart. Your COMMP physician will also conduct a complete medical history and perform a physical exam. You will be prescribed an individualized nutritional plan. At the end of the visit, you will receive orders to obtain blood work (if required) and scheduled a follow-up appointment to measure your metabolic rate. (To read more about body composition and metabolic rate testing, see Specialized Testing.)
Step 3: Your first Intensive Lifestyle Intervention (ILI) visit
At your first Intensive Lifestyle Intervention (ILI) visit, you will consult with one of our registered dietitians for approximately 30 minutes to review nutrition changes made since the start of your program. The dietitian will evaluate your nutrition, stress, sleep, and other lifestyle habits to sustain your weight loss journey. You will weigh in at each ILI visit.
Step 4: Your second medical visit
During your second medical visit with a physician (about 40 minutes), the physician will review the results of your blood work and initial metabolic rate testing. You will also obtain another body composition analysis to review with the physicians. In addition, if medications are needed to manage obesity and/or obesity-related medical conditions, the physician will discuss them with you during this visit.
Following the second physician visit, all subsequent visits with your obesity medicine specialist are typically about 20 minutes. Your follow-up ILI visits with your registered dietitian/COMMP team member are about 30 minutes.
You will alternate between ILI and medical visits with physician and registered dietitian. You will receive a body composition analysis at each medical visit (with a few exceptions) which is reviewed with the physician.
You will be seen weekly at COMMP for the first two months, usually alternating each visit between your physician and registered dietitian/COMMP team member. Then if you are ready, we decrease frequency of visits to every two weeks. After the 16 week mark, we will meet once per month until you meet your goal. (This timeline can be individualized based on your needs.)
Once you meet your health goal, your visits are scheduled based on your needs. Successful maintenance of a new weight takes practice and a lifelong commitment to healthy decisions and staying on track with your medication, nutrition, and physical activity. Eventually you will see your obesity medicine specialist once a year, just like other specialists you may see. If you begin to experience weight regain, the most important step is to get back to clinic as soon as possible to determine what has changed and get you back on track.
Follow-up blood work and measurement of metabolism will be obtained at approximately three months and six months respectively and then based on each patient's individual progress. Also included in the COMMP experience is enrollment in two physical activity instructional classes, Patient Centered Physical Activity (PCPA) I and II. Patients can sign up for these classes as their schedule permits.
Unsure if COMMP is the right fit for you? Feel free to attend one of our 20-minute informational sessions at no cost.
For any additional questions, please review our Frequently Asked Questions page or contact us at 713-486-1330.
Fill out the contact form and we'll follow up with you to answer any questions you have on the Center for Obesity Medicine and Metabolic Performance (COMMP).
"*" indicates required fields
1Meal replacements are sold here at the suggested retail price. Your quality of care will not be affected by your decision to purchase the supplements elsewhere.