The big game is around the corner. Whether you are hosting friends and family this year or bringing a dish to a potluck, we've got you covered with some healthy and tasty recipes that are sure to wow guests.
"If your New Year's resolution has anything to do with weight loss or just living a healthier lifestyle, social events like a watch party may make you a little nervous. Your game day snacking doesn't have to set you back in your goals," explained Monique Dorsey, registered dietitian with UT Physicians. "By preparing ahead and making thoughtful choices, you can enjoy the day without the guilt that can sometimes accompany mindless eating."
---
Recipes
Creamy Vegetable Dip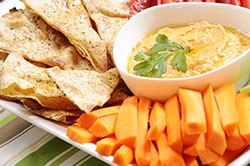 Ingredients
2 cups Greek yogurt (fat-free or 2%)
1/2 green bell pepper
1/2 red bell pepper
1/2 yellow bell pepper
1 tsp onion powder
1 tsp garlic powder
1 tsp dried parsley
1/2 tsp black pepper
1/2 tsp salt
Directions
In a medium-sized bowl, stir the onion powder, garlic powder, black pepper, salt, and parsley into the Greek yogurt.
Finely dice the bell pepper halves and add them to the Greek yogurt mixture, stirring to mix well.
Cover the bowl and let it sit in the fridge for 1-2 hours before serving.
Note: This can be served with carrots, pretzels, pita bread, chips, etc.
---
Turkey Avocado Roll-Ups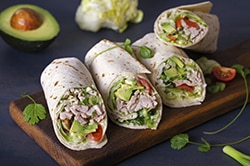 Ingredients
3 whole grain tortillas
3 slices of cold cut turkey
3 slices of cheese (halved)
1/2 avocado (mashed)
1/2 cup fresh spinach
1 medium tomato, sliced
Directions
Spread about 2 tablespoons of avocado over tortillas.
Top each tortilla with 1 slice of turkey, 2 cheese halves, and a flat layer of spinach and tomatoes.
Roll up each tortilla tightly. Cut each roll into 8 pieces; secure each piece with a toothpick.
Serve immediately or cover tightly and refrigerate until serving time.
Note: Avocado can also be diced and added to tomatoes.
---
Summer Vegetable Pizza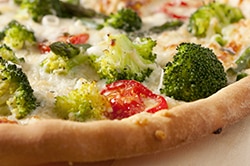 Ingredients
2 cans crescent rolls (reduced fat)
1/2 cup fresh small broccoli florets
1/2 cup shredded carrots
1/2 cup diced tomatoes
Cream Topping
1 (8 oz) pkg. reduced fat cream cheese
1/2 cup 2% Greek yogurt
1/2 tsp garlic powder
1 tsp dried dill weed (optional)
Directions
Preheat heat oven to 375 F.
Open crescent dough and spread it out in a medium-sized baking pan. Press and shape dough up the sides of the pan to create a crust. Bake for 15 minutes or until crust is golden brown. Set crust aside to cool (about 20 minutes).
In a small bowl, mix cream cheese, Greek yogurt, garlic powder, and dill weed to make cream topping. Spread over crescent crust and top with broccoli, carrots, and tomatoes.
Slice and serve immediately, or refrigerate for 1-2 hours before serving.
Note: A variety of vegetables can be used to top the pizza.
---
Garden Pasta Salad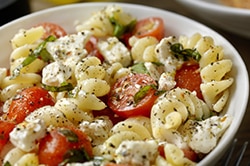 Ingredients
2 cups rotini pasta
1 cup grape tomatoes (sliced in halves)
1 cucumber (diced)
1 medium red onion (diced)
1 yellow pepper (diced)
8 oz mozzarella cheese (diced)
1/2 cup fresh cilantro (chopped)
1 cup cooked and diced chicken breast (optional)
Dressing
1/4 cup olive oil
1/4 cup red wine vinegar
1/2 tsp garlic powder
1 tsp Italian seasoning
Salt and pepper to taste
Directions
Bring water to a boil in a medium-sized pot. Add rotini pasta to pot and cook according to package directions.
Combine main ingredients in a large bowl and mix. Combine dressing ingredients in a separate small bowl and whisk.
Add the dressing to the larger bowl and toss contents together until evenly covered. Refrigerate for two hours before serving.
---
Vegetable Skewers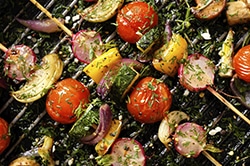 Ingredients
1 red or orange bell pepper (all colors welcome)
1 zucchini
1 yellow summer squash
1 red onion
8 oz baby bella mushrooms (halved)
1/4 cup olive oil
1 tsp garlic powder
1 tsp rosemary
1 tsp thyme
Salt and pepper to taste
Directions
Heat grill to medium-high heat.
Cut bell peppers, zucchini, squash, and onion into similar-sized pieces.
Add vegetable mix to a large bowl. Drizzle in olive oil and add garlic powder, rosemary, thyme, and salt and pepper. Mix until all vegetables are evenly coated.
Thread alternating vegetable pieces onto 8-10 skewers. Place skewers on the grill for 10-12 minutes while periodically rotating 2-3 times until cooked through and slightly browned. Let cool and serve.
*Recipes inspired by Monique Dorsey
How to snack smart
In addition to her recipe suggestions, Dorsey also recommends the following tips to rein in those uncontrollable munchies.
Set a limit for the amount of sweetened or alcoholic beverages you'll have during the game. Once that limit is reached, make an effort to hydrate with water instead.
Avoid sitting near the food or snack table. Instead, make yourself a plate with reasonable portions and take it to your seat.
Optimize those commercial breaks! Use the time to move your body and get your blood flowing.
Good luck to the Kansas City Chiefs and the Philadelphia Eagles! May the best team win!