Cover the Girls, an initiative by the Gustavia Pearls Women's Outreach, found themselves in search of help, and the UT Physicians Multispecialty – Jensen clinic answered their call for assistance. Through this collaboration, women and young girls in need will receive care packages filled with essentials.
During a recent meeting between clinic leaders and community members, Dwantrina Russell, founder and executive director of Gustavia Pearls Women's Outreach, asked for support for the now 10-year-old program.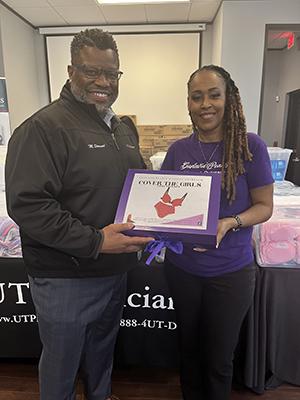 "I truly didn't expect it, and I'm honestly shocked," she shared. "It's an absolute blessing to have UT Physicians be part of this movement and it's afforded us the ability to expand our reach and support even more people."
Moved by the request, Marlon Stewart, practice manager, and Xochitl K. Olguin, project manager, spearheaded the plan to donate enough supplies to fill approximately 400 care packages.
"This initiative is extremely important because it's for women that are victims of violence or recently released from incarceration and they don't have access to things we take for granted," said Olguin.
The Cover the Girls care packages include feminine products, undergarments, educational information on surviving domestic abuse and menstrual health, an affirmation journal, healthy snacks, and a lavender plant to promote relaxation. Russell plans to hand out the kits at local schools, shelters, and community events.
"Dwantrina has been a stark community advocate, voice of empowerment, and servant leader in bringing light to the various social disparities in health," said Stewart. "We are happy to support and contribute to the Gustavia Pearl Women's Outreach Cover the Girls initiative and look forward to future endeavors."