Pain Medicine
Pain management is a critical part of the UT Physicians Neurosciences program. Specialists in interventional pain management and physical medicine and rehabilitation treat acute and chronic pain arising from trauma, nerve damage, degenerative conditions, cancer and systemic metabolic disorders such as diabetes.
The multidisciplinary team works in close collaboration to provide a variety of interventions and strategies for pain self-management to help people regain control of their lives.
UTHealth physicians Nadya Dhanani, MD, Mark Burish, MD, PhD, Joseph Amos, MD, Ashley Amsbaugh, MD, and Hiral Patel, MD, are key members of the UT Physicians Neurosciences Pain Management Program.
Scope of Expertise
Cervical and lumbar radiculopathy and facet arthropathy
Sacroiliac dysfunction
Spinal stenosis
Carpal tunnel syndrome
Vertebral compression fractures
Neuropathic pain conditions, including peripheral neuropathy, diabetic neuropathy, post herpetic neuralgia and central post-stroke pain
Kyphoplasty and vertebroplasty for vertebral compression fractures
Stellate, celiac plexus, lumbar sympathetic, superior hypogastric, and ganglion impar blocks and neurolysis
Facet injections, medial branch nerve blocks and radiofrequency ablation (RFA)
Sacroiliac joint blocks and strip lesioning using RFA
Transforaminal, interlaminar and caudal epidural steroid injections
Greater and lesser occipital, supraorbital and suprascapular nerve blocks
Joint and muscle injections
Spinal cord stimulation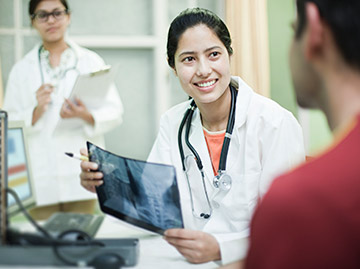 ---