In less than one year from its founding, the UT Physicians spina bifida program has been recognized as a Clinic Care Partner by the Spina Bifida Association.
To be qualified as a designated Clinic Care Partner, a program must meet 10 rigorous standards outline by the national association. These standards range from promoting knowledge about the care of those with the condition to having a multidisciplinary team of experts available to patients. To date, there are only 32 programs in the U.S. that meet all of the necessary qualifications.
Jason K. Au, MD, pediatric urologist and director of the UT Physicians spina bifida program, is proud of the work he and his colleagues have accomplished in such a short period of time.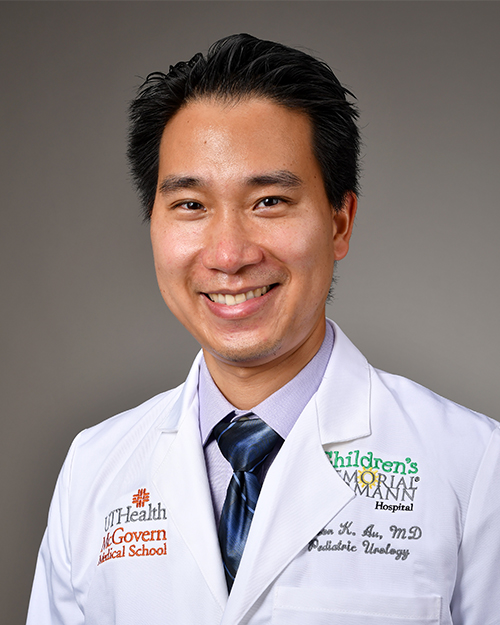 "It's incredibly important to our patients and their parents that we have a multidisciplinary program," said Au, an assistant professor of surgery at McGovern Medical School at UTHealth. "We all work together to ensure that the children's care is coordinated among all our specialists for the benefit and ease of the parents."
Though the program is already being recognized for its extraordinary work, Au has plans for additional improvements in the near future.
"We have formed a patient advisory committee to identify different avenues for patients with spina bifida to connect with each other and their families," said Au. "Through this we hope to find other non-medical ways to support the family units we care for."
The program meets on the fourth Friday of every month in the UT Physicians Pediatric Surgery – Texas Medical Center clinic. The experts on staff include pediatric orthopedists, physical medicine and rehabilitation physicians, genetic counselors, neurosurgeons, urologists, pediatricians, and physical therapists – a team of specialists available to support families and patients through their spina bifida journey.
"We appreciate the support from The Fetal Center at Children's Memorial Hermann Hospital and all our specialists who pour their time and energy into caring for this vulnerable patient population," said Au.
For more information on the UT Physicians spina bifida program or to schedule an appointment, visit their page.