With temperatures rising each day and outdoor activities ramping up, it's important to discuss safety precautions with your loved ones dealing with sweltering weather. Heat-related illness is a common occurrence during the summer months and can affect anyone, at any age. If you plan to spend some time outdoors, here are some tips on how to stay cool and safe from Thomas J. Murphy, MD, assistant dean for health policy at McGovern Medical School at UTHealth and chief medical officer for community-based clinics at UT Physicians.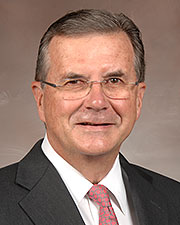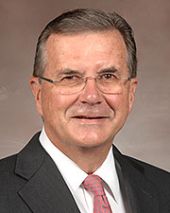 Avoid the hottest parts of the day
During summer, the time between noon and 4:30 p.m. is when the temperature reaches its hottest point. "Try to get things done in the morning or evening hours when it feels cooler," said Murphy. "If you have to be outside, stay out of the sun as much as possible and take frequent breaks."
Wear proper clothing and sunscreen
Be sure to dress properly and use sunscreen with SPF 15 or higher when you are outside. "Wear light-colored clothing that is loose fitting and lightweight to help keep you cool," said Murphy. "When using sunscreen, apply it generously and often to protect your skin from the harmful effects of the sun."
Stay hydrated
During hot temperatures, you need to drink fluids often and frequently. "Don't wait until you are thirsty to drink," explains Murphy. "You should avoid drinks with caffeine and alcohol since they can dehydrate your body even more."
People at higher risk at high temperatures
Children, seniors, and those with chronic health and mental conditions are at greater risk for heat-related illness. "Keep a close eye on those who may need extra care," said Murphy. "They may have a tougher time cooling off due to their age, weight, or certain medications they are taking."
Warning signs of heat-related illness
Your body normally cools itself off by sweating, but sometimes it's not enough and your body becomes overloaded. Heat cramps, heat exhaustion, and heat stroke are three of the most serious occurrences of heat-related illnesses.
Heat cramps – These are painful, brief muscle cramps or spasms that occur during heavy exercise or strenuous activity in hot weather. The cramps are usually felt in the calves, thighs, abdomen, or shoulders.
Heat exhaustion – This occurs when the body is not able to maintain normal functions because of the excessive loss of bodily fluids and salts. Symptoms may include heavy sweating, dizziness, weakness, headache, and cold, clammy skin.
Heat stroke – This happens when body temperature reaches 103°F degrees or higher. It is a life-threatening emergency. Signs of heat stroke can include headache, nausea, confusion, loss of consciousness, and hot, red, dry or damp skin.
"If you suspect someone may be experiencing any of those symptoms, it's very important to get medical help right away," Murphy said. "It could mean the difference in someone surviving the heat or not."