"I just remember the paramedics talking with me," recalls 70-year-old Glinton Patterson. "At the time, I really didn't think there was anything much wrong. I just felt tired. I was surprised I was being loaded into an ambulance."
That was February 2018. The outcome to Patterson's story could have been different had it not been for the quick thinking of a UT Physicians medical assistant and a senior cardiology fellow with McGovern Medical School at The University of Texas Health Science Center at Houston (UTHealth).
Two months ago, Patterson, a Missouri City, Texas, resident and heavy equipment mechanic, began feeling weakness in his legs. "There was really no other symptom," he explains, putting both hands on his knees. "Something just didn't feel right."
Over a weekend, he asked his wife to take his blood pressure. "Error," says Patterson matter-of-factly. "That was the only reading we were getting. We switched arms and got the same message."
Patterson describes his wife taking her own reading and it working correctly. After multiple error messages, the longtime UT Physicians patient decided to call the Health Center – Bellaire for an appointment.
"I called his name to bring him to the back and noticed he looked tired," says Gloria Flores-Olvera, medical assistant. "I started with his right arm and couldn't get a blood pressure reading. I moved to his left and then asked him if he was experiencing any concerns. He said his heart rate had been low. I reached for his arm and took his heart rate and it was extremely low. I honestly couldn't believe he was speaking to me it was that low."
Flores-Olvera informed Yun Wang, M.D., assistant professor of family medicine at the medical school of the results and then performed an electrocardiogram (ECG or EKG) test on Patterson. Dr. Wang said the results were abnormal, so Flores-Olvera went to cardiology.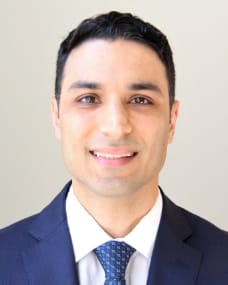 McGovern fellows part of patient experience
Once there, she found Sam Chitsaz, M.D., a senior cardiology fellow. A fellow has completed medical school, residency and is receiving training in a highly specialized field of medicine.
Dr. Chitsaz read the EKG report and instructed Flores-Olvera to dial 911. The diagnosis: a third-degree atrioventricular block, which is a complete heart block.
"Normal heart function requires timely and orderly contractions of different parts of the heart muscle," explains Dr. Chitsaz. "Everyone's heart has a built-in electrical system that regulates the heart rate, and coordinates timing of contraction between the top and bottom chambers of the heart with each heartbeat."
With a complete heart block, the electrical connection between the top and bottom parts of the heart is blocked, resulting in a lower heart rate and abnormal heart function. Symptoms can include fatigue, dizziness or shortness of breath.
"Complete heart block is a medical emergency, and if not fixed in time, can result in serious complications, such as significant drop in blood pressure, passing out or syncope, heart attack, or even death," says Dr. Chitsaz. "Most of the time, patients with complete heart block need a permanent pacemaker device, which mimics functions of the heart's natural electrical system."
"Cardiology fellows at UTHealth have the privilege to be trained by well-experienced and knowledgeable academic cardiologists," says Dr. Chitsaz. "As we complete our training milestones, we become more and more confident to diagnose life-threatening heart conditions and take appropriate actions to save our patients' lives. As a senior cardiology fellow, I immediately recognized Mr. Patterson's complete heart block after obtaining an electrocardiogram. The next step was to make sure the patient is stable enough before transferring him to the hospital for further assessment and implantation of a pacemaker. Lastly, efficient communication between the health care providers is an essential part of providing the patients with the best-quality service. Mr. Patterson would not have been appropriately treated if our fantastic clinic staff did not detect his low heart rate, and if his primary care physician did not seek out a cardiology opinion."
With its affiliation to McGovern Medical School, UT Physicians patients have access to both current and future generations of health care providers who are trained in a collaborative environment in the latest technologies.
"As an academic medical practice, UT Physicians provides the most up-to-date care for our patients, with availability of primary and subspecialty care as needed, ensuring a continuum of expertise for each patient," said Barbara J. Stoll, M.D., dean of McGovern Medical School.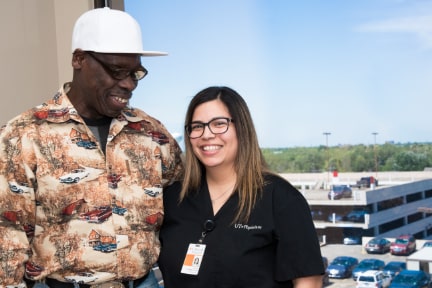 Quick fix, thankful heart
After arriving at a local hospital, Patterson said he realized the situation was serious. "There were five or six physicians coming in and out of my room," he recalls. "I started to become worried. However, they kept my spirits up and they explained I needed a pacemaker. I was only there for a short stay. I had the procedure and then I went home."
A week later, Patterson's wife arrived at the clinic. "She came in to thank me for saving his life," Flores-Olvera says. "She told me I was his guardian angel."
"They (the clinic staff) know me," Patterson says. "I know them. They saved my life. I will keep coming and I always look forward to their smiles—Gloria's, Catrina's—all of them."