For years, Natisha 'Six' Robinson had struggled with pulmonary issues, asthma, managing her weight, chronic joint pain, and anxiety. It had gotten to a point where she was taking medications to manage her anxiety and prevent blood clotting.
"While I always sought to keep a sense of optimism, it became increasingly difficult when going in and out of the hospital, sometimes staying days at a time. My body felt out of sync," Six said. "While there wasn't a specific explanation for my health problems, I knew I didn't want to stay on inhalers, breathing treatments, and anxiety medication forever. I needed a lasting solution."
Fortunately, an option revealed itself for Six. Serving as a medical assistant at UT Physicians Multispecialty – Bellaire Station, Six would often receive positive feedback from patients who spoke highly of the treatment and counsel they had received from UT Physicians gastroenterologist Pritesh Mutha, MD.
"The praise people were expressing for Dr. Mutha's care – it genuinely intrigued me. I thought perhaps he could help me as well," Six said. "Plus, it wasn't always some formal, extensive plan. He was primarily offering recommendations and guidance on healthy dietary choices and lifestyle changes. It was worth giving it a shot."
Consultation leads to a new direction
When Six first talked to Mutha, she found him very kind, insightful, and approachable. As they became more acquainted, Six would later inquire with Mutha about his preferences for snacks and food options.
The reply Mutha gave to Six was quite a surprise to her.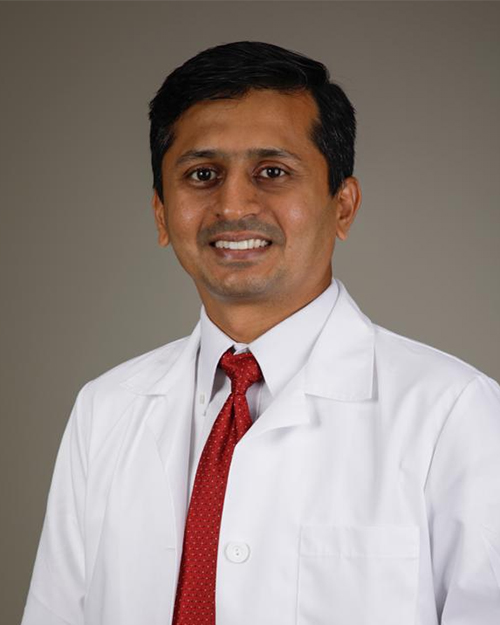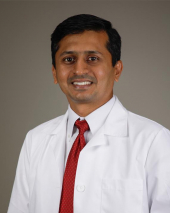 "I explained that I adhere to a whole food, plant-based diet (WFPBD), not eating any types of processed food," said Mutha, associate professor of gastroenterology, hepatology, and nutrition with McGovern Medical School at UTHealth Houston. "To make it simple, I don't eat any animal-derived products, fried foods such as chips, or food and drink with processed sugars like sodas and candy."
For Six, meats, dairy, and processed snacks were a regular part of her diet. Mutha suggested that she consider beans, fruits, vegetables, whole grains, nuts, non-carbonated drinks, and using natural herbs and spices to season her meals.
"Honestly, it sounded next to impossible to ween myself off of things like chicken, eggs, and things you might get from a vending machine. But I was willing to do it if it would bring me relief," Six said.
Mutha's dietary recommendations for Six were not a formal treatment plan, but more meant to be supportive suggestions. Mutha committed to Six that he would follow up periodically to check on her progress. Additionally, he recommended using mobile health trackers or apps for Six to record her daily eating and other activities.
Real change, both inside and out
Within weeks of Six changing her eating choices and lifestyle, she began to see and feel positive results.
"I worked the meat and dairy out of my diet, one day at a time, eventually down to little or none at all. I switched to meals containing more raw vegetables and fruit-based smoothies," she said. "I would also check in with Dr. Mutha and send him images of the foods I was eating."
Within a month of Six's new regiment, she lost 15 pounds of body weight. She also could readily feel an improvement in her daily energy and greater relief from the discomfort she had felt before in her joints.
"The response to the new diet was truly amazing. I no longer needed to use a breathalyzer or take nebulizer treatments, and I stopped having the spells of dizziness I would experience," Six said. "My skin didn't bruise as easily as before, and all my clothes started to fit better."
Additionally, Six's need for prescription medications subsided – a milestone that Mutha felt was most significant.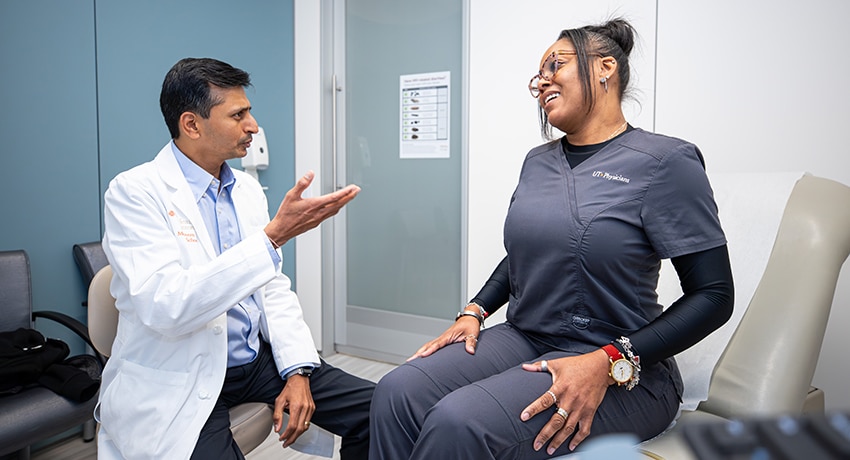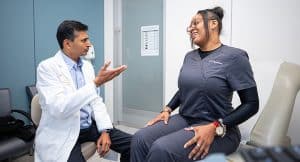 "The fact that Six was able to get off of medications just by a change in her food choices – it really is a powerful story. In essence, you could say that the WFPBD was my prescription to Six," Mutha said. "As a society, we must consider a shift in thinking that prescription only means pharmacy or that treatment only means surgery. It's a lesson from which both patients and doctors can learn."
Thanks to Mutha and Six's changes to her diet, she has lost to date nearly 40 pounds of body weight and remains prescription-free. For her, the change was not only in her body but also in her outlook on personal well-being.
"The entire experience has been a re-education into strength and commitment toward taking care of myself," Six said. "With commitment and willpower, I can be an active part of solutions that can benefit me in the long run."