Last spring, 49-year-old Keith Rollins from Fulshear, Texas, felt mild discomfort on his backside when he was doing a situp. Little did he know that this uncomfortable sensation would lead him down a path that would indirectly save his life.
Rollins was fairly sure the discomfort was likely due to a pimple or ingrown hair, but decided to obtain a medical opinion to make sure, so he reached out to Omar Madriz, MD, a colon and rectal surgeon with UT Physicians Colon and Rectal Clinic.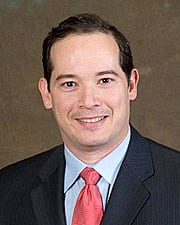 A thorough examination was performed by Madriz, who is also an assistant professor in the Department of Surgery at McGovern Medical School at UTHealth. "The examination confirmed that the backside discomfort was due to a pimple or boil; however, a rectal polyp was also found during the examination," Madriz said.
Madriz proceeded to ask Rollins whether he had ever had a colonoscopy. Shocked by the question, Rollins said he hadn't had a colonoscopy yet because he wasn't 50, and he always understood 50 was the appropriate age.
"For a long time, 50 was the standard age to have a colonoscopy," said Madriz. "The recommended age for colon screening is now 45. Additionally, patients with strong family history of colon polyps, colon cancer, and/or any signs or symptoms such as abdominal pain, bleeding, blood in the stool, or change in bowel habits may need to be checked at an earlier age."
So, Madriz scheduled a colonoscopy to remove the rectal polyp and to check the entire colon. During the procedure, Rollins was found to have a mass which turned out to be colon cancer.
Madriz scheduled a CT scan to ensure cancer had not spread to other parts of the body. While Rollins was on the 14th hole of a round of golf, he received a call from Dr. Madriz – the cancer had not spread.
Two weeks later, Rollins was scheduled for surgery to remove the colon cancer along with the surrounding lymph nodes.
Four of the 32 lymph nodes removed had cancer. Rollins' next step was chemotherapy to help decrease the risk of recurrence.
Ultimately, he was treated for stage 3 colon cancer.
"If it weren't for that pimple and me seeking out Dr. Madriz, things could have been a lot worse," said Rollins.
While he was anxious to get treatment underway immediately, he would have to wait at least a month after his surgery in order to heal. From there, he received 12 rounds of chemotherapy, finishing up treatment on Dec. 16, 2020. He had his last scan on Dec. 23, which was clear.
"It was the best Christmas present for my family and me," said Rollins. "I will always be grateful to Dr. Madriz for taking his initial exam one step further and making sure I had a colonoscopy done."
Rollins is taking the entire experience and using it to help educate and raise awareness of the need for colonoscopies before the age of 50 to help detect colon cancer earlier before it progresses to its advanced stages.
Together with his wife, Sarah, and their two children, Reece and Kendall, they have started the Push Up Foundation Houston to encourage individuals to "push up" their colonoscopy dates.
"We have this burning desire to be a lightning rod to create awareness of colon cancer, a treatable disease when caught early," said Rollins.
The Foundation's free kickoff event is a 5K event, the "Victory Lap," at the Memorial Park Fitness Center on March 6. It is an opportunity for Rollins to share his story more broadly, with hopes of encouraging more people to schedule their colonoscopies before the age of 50. Rollins and his family have visions of growing the Victory Lap annually to become an instrumental platform in creating awareness of colon cancer.
"I believe my diagnosis, surgery, and subsequent treatments created a purpose for me: to take action and help others facing a similar situation," said Rollins. "My family and I are incredibly thankful to all those who took care of us while I was going through it, and we want to do nothing more than to pay it forward."