Gina Drake was in her second trimester when she learned her child would be born with a cleft lip and palate. Although a tearful revelation, the resources her family would discover would make all the difference.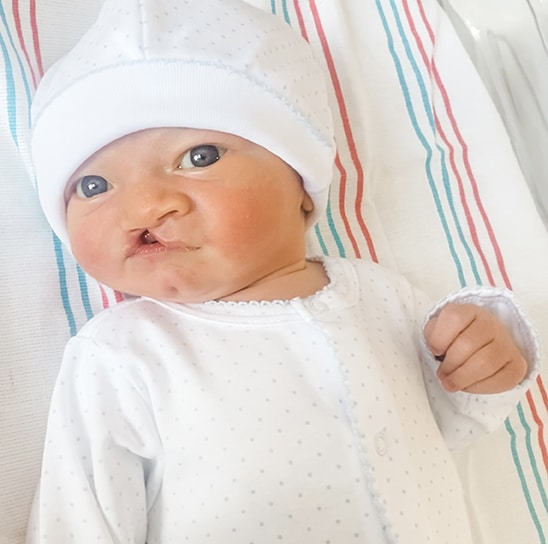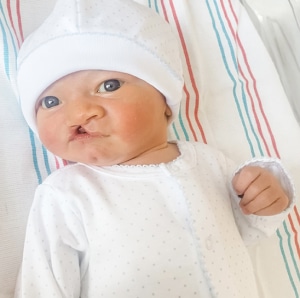 "I found out during my 20-week anatomy scan. I had done genetic testing and knew a baby boy was on the way, plus I had done regular blood tests – everything to date had come back great," Gina said. "The OB-GYN was pointing out all my child's fingers and toes at our appointment. Then, after putting the wand on my stomach in the same place, she turned the screen away and became very quiet. I immediately thought something was wrong."
Gina and her husband were immediately referred to a maternal-fetal medicine specialist, who confirmed their child's condition. While the news was difficult to process, the couple's challenge was figuring out their next steps.
Seeking referral, getting consultation, making connections
"I had so many questions, but no idea where to get started. I had heard of cleft lip and palate before, but I didn't know what it entailed at all," said Gina, who was resolved at that point to start learning as much as possible.
Gina reached out to a family member who is a plastic surgeon in the Houston area, and he recommended Matthew Greives, MD, pediatric plastic surgeon with UT Physicians.
July is National Cleft and Craniofacial Awareness Month, which seeks to raise awareness and improve everyone's understanding of facial differences.
"My cousin told me they have an 'A-team' at UT Physicians," Gina said. "It was just such a relief to get this advice because I was in limbo between getting the diagnosis and getting to talk to someone."
Gina and her husband met with Greives in advance of their son's birth in September 2022. It was a dialogue which would provide them hopes of a happy future.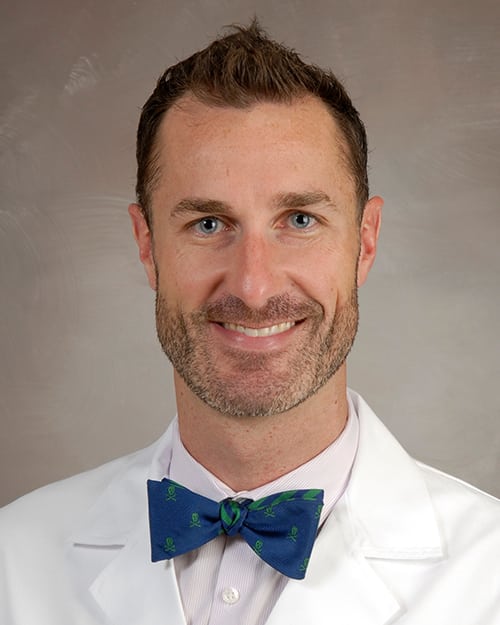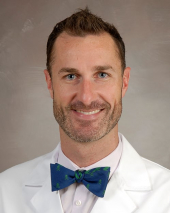 "The prenatal consultation is an important first step for many families," said Greives, associate professor and the Dr. Thomas D. Cronin Chair in Plastic Surgery at McGovern Medical School at UTHealth Houston. "The couple came in with detailed, well thought out questions. I assured them our team would provide the best care possible and encouraged them speak to our clinic's family network of parents – many who had experience with cleft lip and palate treatment for their children. They can be really great peer counselors."
"I was so appreciative of the time Dr. Greives took with us. He answered every question in depth and walked us through the entire process," noted Gina. "He never made me feel rushed, and he validated how I was feeling, which helped bring me peace. I just have the utmost respect for him."
Along with Greives, the family also met with Stephanie Johnson-White, a speech-language pathologist and care coordinator.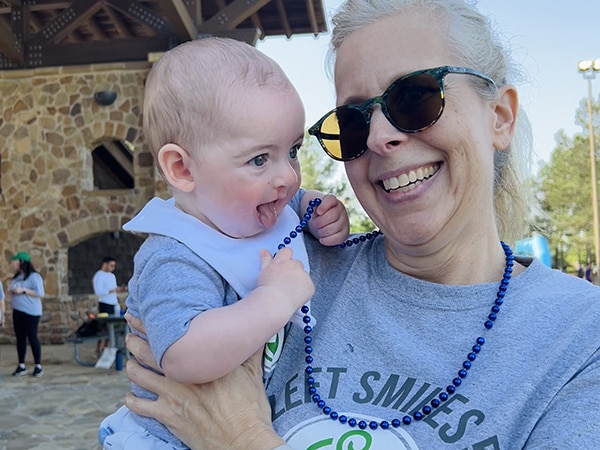 "Being able to help share information with parents, educate them, and ease their anxiety during different stages of treatment is something that our team strives to do every day," said White. "Cleft and craniofacial care is near and dear to my heart, as I myself have family members affected by cleft lip and palate. I am happy to be part of a team of amazing families and caregivers."
A first surgery leads to new smile
Following the birth of Scott Joseph (called "SJ" by the family) on Sept. 8, 2022, a cleft lip repair procedure was scheduled for mid-November. In advance of the surgery, Gina and her husband remained attentive to providing loving support for their son, while adhering to the instructions provided by the UT Physicians team.
"I called Stephanie at the clinic all the time, sometimes just to talk and calm my nerves," Gina said. "She has really been an angel for our family. It reassured me that we had made the right decision about UT Physicians."
In advance of the first surgery, Greives met with SJ's parents to discuss options for treatments to prepare their child's cleft lip repair. Gina had researched information on nasoalveolar molding (NAM), a removable device used to assist in the closure of the lip, gums, and nostril area. Additionally, she had found information on DynaCleft, a noninvasive rubber band and taping system designed to help reshape the lip and nose in preparation for the first cleft surgery.
Gina was genuinely uncertain of which option to choose, the NAM device or DynaCleft system. "I simply wanted the one which was least uncomfortable for SJ and that would lead to a successful surgery," she said.
Greives told Gina that whichever technique she selected, the cleft-craniofacial team at UT Physicians was committed to making SJ's procedure a positive outcome.
"SJ is such a smiling baby, and has been since his birth. He had the best 'wide smile' – with the cleft, he loved sticking his tongue between the gap," she said. "I was really worried he would be in pain and he wouldn't smile as much after the surgery."
Following the surgery, the Drakes were taken to the recovery room.
"He looked over and smiled when he woke up," said Gina. "It was the biggest sigh of relief for us. We cried happy tears."
At the one-year mark; looking forward to learning and growing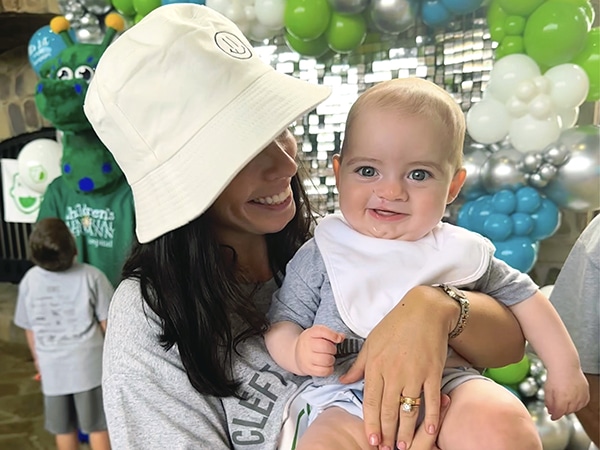 As the summer moves ahead, SJ's parents look forward to a first birthday (smash cake included), plus exploring the next steps to take in their son's cleft lip and palate journey. SJ will have a surgery later this year to repair his cleft palate.
When reflecting on her first year of motherhood, Gina is comforted by the wisdom she has gained. Likewise, she looks forward to sharing it with others.
"If you're not careful, you can almost get 'blinded' by the cleft, versus realizing that the cleft is just something your child has, but it is not what they are. A child is more than their fingers and toes," she said. "Instead, take stock in what you have found in developing your child's plan, the experts and resources on your cleft team, and the village of families from whom you can learn."