William Shakespeare's famous quote "Though she be but little, she is fierce" describes 29-year-old Eugheia Simon to a T.
A high school teacher born and raised in Beaumont, petite 4' 11' Simon has overcome remarkable odds, surviving not one, but two strokes before the age of 30.
Simon experienced her first stroke at the age of 15 while her friends were off having fun, learning to drive, and participating in social activities.
"A big part of your identity at that age is being able to socialize and create friendships. Before the stroke, I was a 'social butterfly' and was always out and about," said Simon. "After the stroke, I was wheelchair-bound for nearly a year and had to rebound from issues like short-term memory loss. It was a challenging time in my life."
But she persevered and carried on with her life and eventually landed a teaching job at Evolution Academy Charter School in Beaumont. She loved teaching and jokes that sometimes it was hard for people to distinguish her from students because of her tiny stature.
"Sometimes they would confuse me with my students," she laughed.
Simon was enjoying life as a teacher and spending time with her family until things suddenly changed. She vividly remembers the day she experienced her second stroke on Dec. 7, 2019. It was her mom's birthday and she was looking forward to celebrating with her later that day.
"I got up early and was ready to work out," said Simon. "About halfway through, I couldn't remember how to do the exercises and became disoriented. When I talked, it came out as gibberish and when I went to call my dad for help, I couldn't remember which button to push."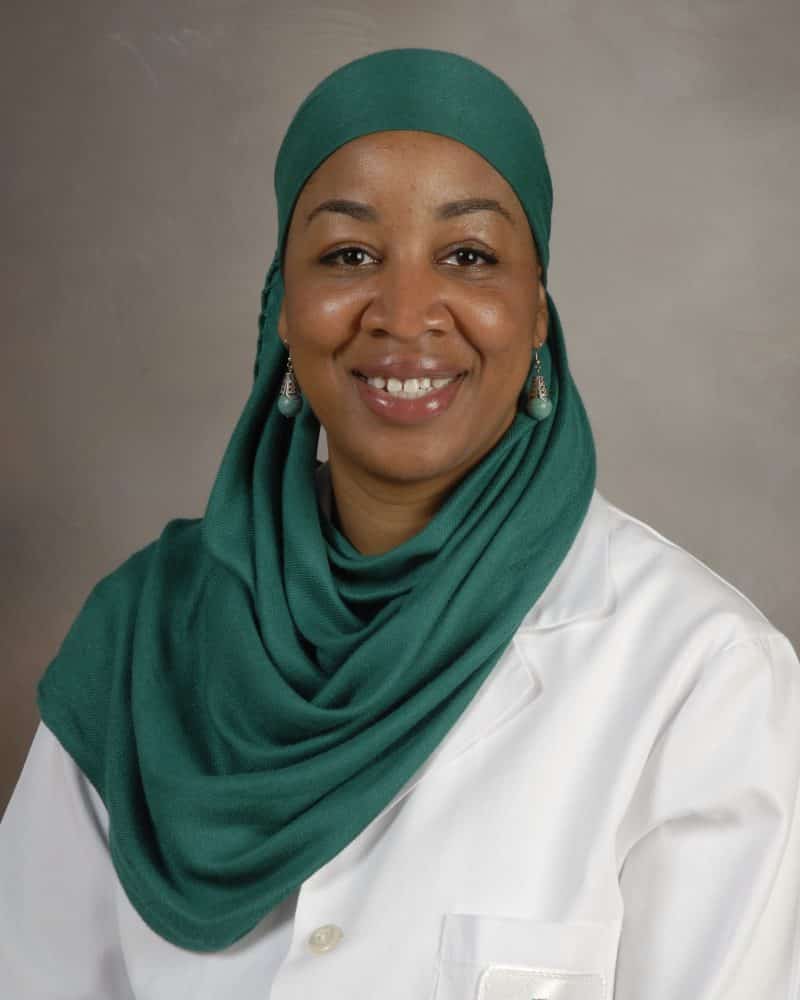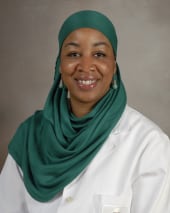 Simon eventually did reach her dad and soon found herself at Baptist Hospital in Beaumont. After spending a week there, the UT Physicians telemedicine team in Beaumont referred her to Anjail Sharrief, MD, a neurologist with UT Physicians who specializes in stroke prevention, to evaluate the cause of stroke and provide continued care.
"Strokes in younger people, those in their 20s and 30s, are more common than the general population realizes," said Sharrief, who is also an associate professor of neurology and director of stroke prevention for the Institute of Stroke and Cerebrovascular Disease at McGovern Medical School at UTHealth. "It's important to recognize the signs and symptoms and seek treatment right away. Strokes are not something just older people have."
There are several reasons younger people may experience strokes. Some have an inherited blood disorder that causes blood to clot when it's just moving through the body and others are born with structural problems with their hearts. One structural problem that contributes to stroke risk is known as a patent foramen ovale, or what some might describe as a "hole in the heart." This is literally a hole between the upper chambers of the heart that do not close after birth. Young women who use contraceptives in combination with smoking or migraines with aura also are at risk for having a stroke.
Now having recovered from two strokes, Simon said she's learned to be her own best advocate and imparts that advice to anyone about their health.
"Only you know when something is off," she said. "Listen to your body. If you think you've experienced a stroke, get help immediately because every second counts. The longer you wait, the more negative impact it will have."
To make an appointment with Dr. Sharrief or any other of our stroke specialists, please contact UT Physicians at 832-325-7080.
According to the American Stroke Association, the following are signs and symptoms of stroke:
Sudden numbness or weakness of face, arm, or leg, especially on one side of the body
Sudden confusion, trouble speaking, or understanding speech
Sudden trouble seeing in one or both eyes
Sudden trouble walking, dizziness, or loss of balance or coordination
Sudden severe headache with no known cause
Simon works hard to take care of herself to prevent future episodes. In her case, genetic makeup is part of the issue. She's careful to keep her stress levels in check, get plenty of exercise, and eat right.
"Praying for peace and serenity are helpful to me," she said. "I do what I can to manage stress and simply remember to breathe."
For more information about stroke, visit the American Stroke Association.