It's a few seconds between thinking and acting, but it can make all the difference in the world.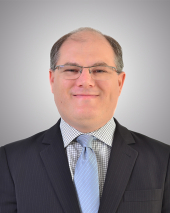 "Sometimes, a five-minute conversation over the phone might be just the time you need to organize your thinking process," said Joao de Quevedo, MD, PhD, director of the Center for Interventional Psychiatry and professor in the Louis A. Faillace, MD, Department of Psychiatry and Behavioral Sciences at McGovern Medical School at UTHealth Houston.
Since the rollout of 988, the three-digit, simplified national crisis number that started in July 2022 (988 Suicide & Crisis Lifeline), trained counselors have answered 46% more calls than the previous 12 months. In total, it adds up to nearly 5 million contacts answered in the last year through calls, texts, and chats, according to the U.S. Department of Health and Human Services. Not only did the volume served increase, but the average wait time for callers dropped: from 2 minutes and 39 seconds to 41 seconds. This improvement is huge for people calling in a moment of crisis.
De Quevedo has heard the benefits of the crisis line firsthand from patients who have used the free service during a crisis.
"Patients tell me that having somebody to call, text, or chat was important to give them time to cool down the suicidal ideation," said de Quevedo, the John S. Dunn Distinguished Professor at McGovern Medical School. "They were in that rumination process, like putting the pros and cons of being alive. Having a third party to easily get in touch with was the difference between them not attempting suicide. It gave them time to rethink and not act impulsively."
Of his patients who have attempted to take their life, de Quevedo said they regretted it — especially those who had a consequence from the suicide attempt.
Make the call
For people experiencing a tough moment, de Quevedo recommends telling somebody close to you, if you have that person you can trust. If you don't, he says everyone has access to a phone and should give 988 a chance.
"Bad times happen when you are depressed, and it looks like the bad times are going to last forever," de Quevedo said. "If you have another perspective to remind you that it's a bad phase and things might be better, it might buy you time to change your mind and not do something you can't undo."
The 988 Lifeline provides 24/7, free and confidential support for people in distress. Before 988, the National Suicide Prevention Lifeline had used a traditional 10-digit phone number since 2005. Calling the lifeline is just the start.
Continue the conversation
De Quevedo said people still need to make an appointment with a professional to continue the conversation after making a 988 call. While it might have prevented suicide in the moment, the underlying situation is likely still present.
"Pick up the phone, make an appointment, and see a mental health professional," de Quevedo said. "Do not be embarrassed or feel like you are less than others. Mental illness is an illness just like heart disease or diabetes. It deserves to be treated."
Suicide hotlines exist in several countries around the world, says de Quevedo. While more research is needed to show how much they help and how they can be more effective, spreading awareness of them is the best thing that can be done.
"We need to make sure everybody knows that this tool is available," he said. "It has been used more than I expected. It's not something usual to the United States culture to have a different number for a different kind of need. I like this concept of having a nationwide strategy."