Thread Lift
Roll back the clock with a minimally invasive procedure to rejuvenate and restore a youthful look to the face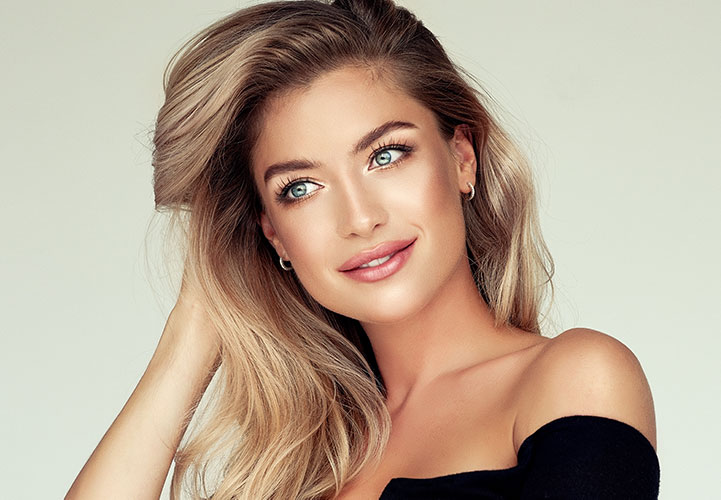 Thread Lift Procedures in Houston, TX
As we age, the face undergoes some anatomical changes. Instead of a heart filled shape, the face assumes more of a square or triangle. Specifically, in the midface, there is loss of volume as the facial fatty tissue deflates. These midfacial fat pads also descend as they are pulled down by gravity. This descent accentuates the melolabial folds of the face. Volumizing the face with filler or with surgery will lift the cheeks and reestablish the more youthful face. Until recently, surgery and filler were the only options available. Not everyone is interested in surgery or willing to undergo surgery. The thread lift Is an excellent option in these patients and serves as an "in between" procedure to bridge the gap between fillers and surgery.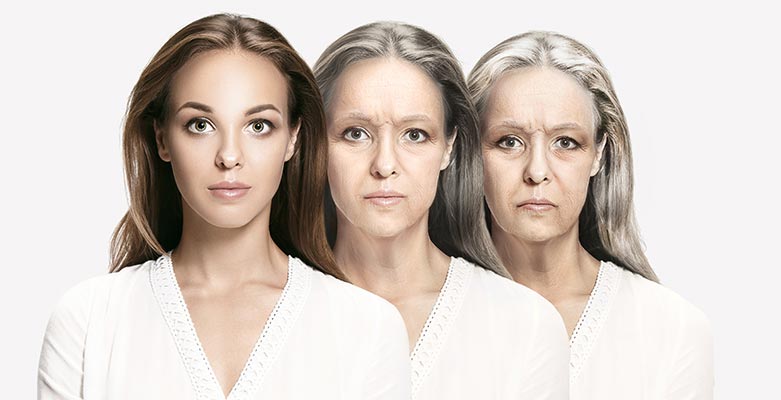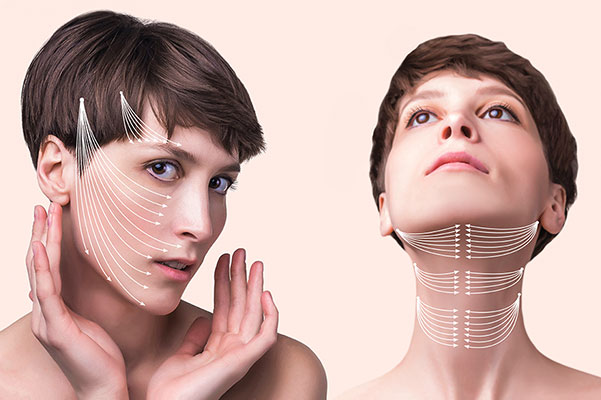 What is a Thread Lift Procedure?
The thread lift is a minimally invasive in office procedure where temporary sutures are used to produce a subtle lift in the midface. Unlike a facelift, where skin is incised and a large incision is made, a tiny entry site is made and the suture thread is advanced under the skin to suspend, lift and tighten the cheeks and jowls. The procedure is quick and takes about 30-45 minutes in clinic. Although the threads are dissolvable sutures and tend to dissolve by about 6 months, they have the added benefit of triggering collagen production in the face. Collagen keeps our skin looking healthy and fresh and supports our skin and extends the results of the thread beyond 1 year, long after the sutures have absorbed.
What are the advantages to having a thread lift instead of a facelift?
There is no question that a facelift will give you the best result. Any non-surgical intervention will produce subtle improvements in the face. For some patients, a big drawback of the facelift is the downtime associated with it. It is a surgical procedure done under general anesthesia and will require 1-2 weeks off work for recovery and for swelling to come down. The recovery from a thread lift is comparatively light. Local anesthesia (lidocaine) is used instead of general anesthesia. There is some redness and swelling after the procedure and while some patients may wish to take the rest of the day off, most can return to work the same day. This is ideal and works well for patients who have busy schedules.
Types of Thread Lifts
The sutures used in thread lifts are made from a material called polydioxanone. This is a suture commonly used in surgery and is a dissolvable suture. The sutures have tiny "barbs" or "cones" that will catch the tissue in the face and very gently pull back the skin and lift the cheeks and jowls. Barbs are small cuts that are made in the suture thread to create gentle edges to catch the tissue of the face. While this is effective, the way the barbs are created breaks down the integrity and strength of the suture. The cones are small molded cogs that are attached to the suture thread. Many brands of thread lift exist and they differ in the design of the cones on the suture. We use the MINT thread lift in our clinics.
Combining Thread Lift with other Procedures
Thread lift is a minimally invasive procedure and because of this, it can be combined with other nonsurgical procedures to improve your results. These adjunctive procedures include PRP, dermal filler, Sculptra , fat grafting, botox and other high energy treatments such as thermage or ulthera which are given to increase tightness in the skin and lift the skin.
Tang Ho, MD, MSc, FACS
Director, Texas Center for Facial Plastic Surgery
Associate Professor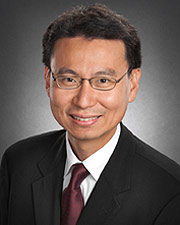 Dr. Ho is chief of facial plastic and reconstructive surgery and an associate professor in the Department of Otorhinolaryngology-Head and Neck Surgery. He received his medical degree from the Johns Hopkins University School of Medicine in Baltimore, Maryland, and completed his otolaryngology-head and neck residency training at the Baylor College of Medicine in Houston. He completed fellowship training in facial plastic and reconstructive surgery at Johns Hopkins Hospital. Prior to embarking on a career in medicine, Dr. Ho was a U.S. Fulbright Scholar to the United Kingdom, where he received his master's degree in sociology from the University of Edinburgh in Scotland.
Dr. Ho is double-board-certified by the American Board of Facial Plastic and Reconstructive Surgery and the American Board of Otolaryngology-Head and Neck Surgery. His clinical interests include aesthetic and reconstructive surgeries of the face, including facial rejuvenation procedures (facelift, brow lift, Botox® injection, injectable fillers), rhinoplasty, facial reanimation procedures for patients with facial paralysis, reconstructive surgery of skin cancer defects, and complex microvascular facial reconstruction.
W. Katherine Kao, MD
Assistant Professor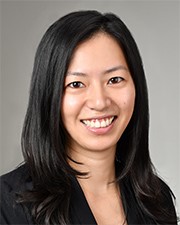 Dr. Kao is a facial plastic and reconstructive surgeon in the Department of Otorhinolaryngology-Head and Neck Surgery. She received her medical degree from the Renaissance School of Medicine at Stony Brook University in Stony Brook, New York and completed her residency training at Washington University in St. Louis. Following residency, Dr. Kao completed subspecialty training in Facial Plastic and Reconstructive Surgery at the University of Miami. Subsequently, she joined the Department as an assistant professor.
Dr. Kao is a member of the American Academy of Facial Plastic and Reconstructive Surgery and board certified by the American Board of Otolaryngology-Head and Neck Surgery. Her clinical interests include hair restoration and transplant, facial trauma, facial rejuvenation (including Botox®, injectable fillers, brow lift, facelift, neck lift, blepharoplasty), rhinoplasty, and reconstructive surgery of skin cancer defects.
Contact Us
Fill out the contact form and we'll follow up with you to answer any questions you have on thread lift procedures.