Kimberly Alleman, RN, always knew she would become a nurse one day. With three generations of nurses in her family, including all of her siblings, the decision was a natural one. After 25 years in her career field, she's now being honored as one of the Top 150 nurses in the Greater Houston area by the Houston Chronicle's annual Salute to Nurses event.
"This nomination was completely unexpected and has impacted me in the best way emotionally," said Alleman.
Her journey into the health care field began 29 years ago as an Army National Guard medic. After over five years of service, Alleman's career brought her back to civilian life and helping those in her community.
At UT Physicians, her role as director of nursing and patient care services has been a critical and constantly evolving one.
"This past year has been the most challenging and rewarding of my career," said Alleman. "Due to the requirements surrounding COVID-19, I have grown as nursing leader by adapting quickly and learning to look to my other team members for support."
Currently, Alleman is working to help lead the success and efficiency of the UTHealth Vaccine Hub, along with the help of UT Physicians clinical and support staff, UTHealth faculty, and student nurse volunteers from Cizik School of Nursing at UTHealth.
"I have the honor of working with a remarkable group of professionals who have successfully come together to ensure our patients and community are cared for and supported through this pandemic," said Alleman.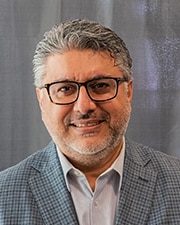 Saeed Chaudhry, MHA, MBA, vice president of operations at UT Physicians, works closely with Alleman and recently was able to witness her quick nursing reflexes in action at the Hub after a patient had fallen while walking in to receive their COVID-19 vaccination.
"She was calm, collected, compassionate, and fully in duty mode to help them. It was impressive to watch," said Chaudhry. "Kim's natural instinct is to care and help. I'm so happy that she's being recognized for this year's Salute to Nurses."
Andrew Casas, senior vice president of UTHealth and chief operating officer of UT Physicians, shares in Chaudhry's feelings about Alleman's recent honor.
"We are all so proud of Kim and her well-deserved recognition by the Houston Chronicle's Salute to Nurses event," said Casas. "Her compassion and knowledge has been instrumental to our practice throughout this past year and all of its challenges – an ongoing pandemic, implementing safety measures for patients and staff, vaccinating employees, assisting in the standing up of the UTHealth Vaccine Hub, the implementation of a new electronic health record, and so much more."
After years of dedication to her patients and the communities UT Physicians serves, Alleman is shocked and flattered to be recognized as a Top 150 nurse.
"I am grateful to receive this nomination and truly humbled to be recognized for what I do as a nurse," said Alleman.
The Salute to Nurses awards event was held on Thursday, May 6. In addition to Alleman's honor, UT Physicians would like to extend congratulations to all the wonderful nurses recognized for this award.