A gigantic blue and orange balloon arch welcomed thousands to a festive event on Friday, Oct. 27, and Saturday, Oct. 28, at UT Physicians Bellaire Station. The two-day health fair, hosted by UTHealth Houston, featured no-cost health and wellness screenings, demonstrations, health care materials, promotional materials, and silly moments at the photo booth. Best of all, attendees engaged with providers and clinic staff from multiple departments and schools across the university.
A first-of-its-kind for UTHealth Houston, the health fair also served as the packet pickup site for participants in the 2023 Houston Half Marathon & 10K held Sunday, Oct. 29, in downtown Houston. UTHealth Houston served as the marathon's title sponsor.
When Sugar Land resident Femi Ayadi saw the information tables lining the hallway towards packet pickup, she said it made the trip to get her runner's kit all the more worthwhile.
"As an avid runner, personal wellness is always important," Ayadi said. "The screenings being offered are what I like to do to ensure I'm fit and healthy. What a great concept!"
A range of specialties coming together
Many runners and their families engaged with representatives from across the university including dermatology, orthopedics, heart and vascular surgery, obstetrics and gynecology, dentistry, Center for Healthy Aging, and more.
Aura 'Angie' Beltran, manager of multimedia marketing for the orthopedics department at UTHealth Houston, said the health fair was great for connecting with people to share information about the services offered at their clinics.
"There was an added benefit of having everything in one spot, so the community could see firsthand all that UTHealth Houston has to offer," Beltran said. "There is a big community of runners among our patients, and many of our orthopedic doctors are runners themselves."
The health fair also enabled attendees to learn about the breadth of the university, which offers both expert care and convenience.
"OB-GYN is not just in the Texas Medical Center, but at clinics in Memorial City, Pearland, and other parts of the city," said Danica J. Lapid, MD, assistant professor in obstetrics and gynecology at McGovern Medical School at UTHealth Houston.
The value of prevention
A recurring theme at the health fair focused on preventive screenings, wellness visits, and care for hundreds of participants.
Katy resident Saroja Bollineni appreciated the convenience of getting screenings done while picking up her runner's packet.
"It's great having UTHealth Houston coordinate resources like this for the community," Bollineni said. Being proactive and doing preventive care checks is a must, she said, based on her family history.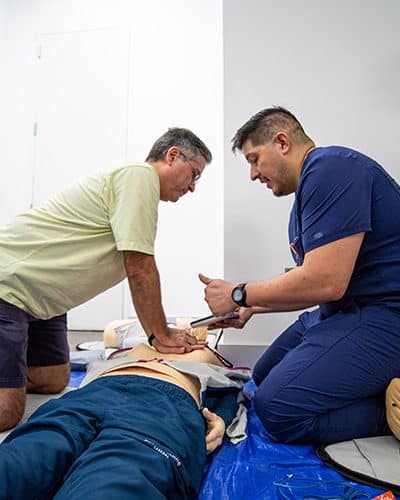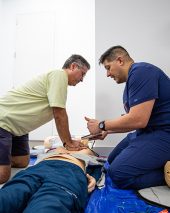 A mobile dental van provided another opportunity for attendees to receive preventive care. Students and faculty with UTHealth Houston School of Dentistry staffed the van outfitted with three dental chairs that provided preventive and therapeutic treatment. This unique resource is regularly used to deliver care to underserved communities across Greater Houston.
Other activities at the health fair included CPR and first-aid demonstrations by the Department of Emergency Medicine at McGovern Medical School at UTHealth Houston. Members of the Mobile Simulation Training Unit said they were happy to be front and center in educating the community.
"Teaching people how to save a life is truly important to us," said Gowri Stevens, MD, associate professor at McGovern Medical School. "If something unexpected happens and someone knows the basic steps for CPR, it can make all the difference in the world."
The spirit of race day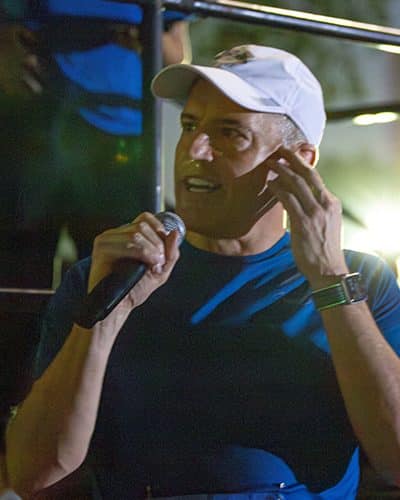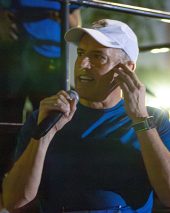 On Sunday, the presence of UTHealth Houston could be seen in the runner's village at the marathon, as well as out on the pathway. UTHealth Houston Senior Vice President for Development and Public Affairs Kevin Foyle, MBA, spoke to runners at the starting line as the first corral waited to take off.
"The team at UTHealth Houston is proud to be a part of this year's event," Foyle said. "Know that we're with you every step of the way."
UTHealth Houston's Marwan F. Jumean, MD, and Taggart T. Gauvain, MD, volunteered as the event's official cardiologist and orthopedist. These specialists engaged participants and offered care, as needed, to runners along the course.
"The spirit and enthusiasm of all the runners was the best part," Jumean said. "It's key to have a presence like UTHealth Houston here, not only for care and support, but to raise awareness of the importance of heart health, preventive care, and a lifestyle of being fit."
As runners crossed the finish line and received their medals, it was a moment to rest and reflect on a job well done – for the event and for Houston. Foyle said the energy from the Bellaire Station health fair transferred over to the Sunday race.
"To have our team present was a lasting message of how UTHealth Houston and UT Physicians are committed to Houston and the community, from start to finish," Foyle said.
View pictures from the health fair
View pictures from the 2023 Half Houston Marathon & 10K