UT Physicians Plastic & Reconstructive Surgery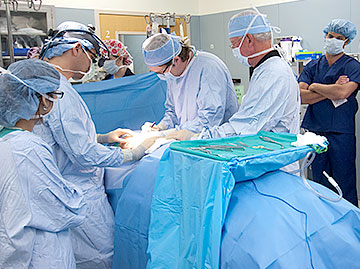 Physicians & Health Care Team
About
Specialties
Breast Reconstruction
Hand Reconstruction
Aesthetics Cosmetic: Chief Resident Clinic
Limb Salvage/Extremity
Pediatric Cleft Program
Abdominal Wall Reconstruction- MIST
Facial Reanimation
Vascular anomalies
Craniofacial
Burn Reconstruction
Reconstructive Surgery
This involves restoration of form and function throughout the body. This may include repairing a defect that trauma or tumors may have inflicted, reconstructing a breast after mastectomy, reattachment of limbs and digits, putting back together the bones of a face, or gender affirming surgeries.
Microsurgery
This involves utilizing a microscope or magnifying glasses (loupes) to sew blood vessels and nerves together, allowing the surgeon to bring tissue from one part of the body to another. The sutures used are 1/3 the size of a human hair and these techniques require specialized training and expertise.
Craniofacial and Pediatric Plastic Surgery
This includes treatment of anomalies of the face or head as well as other congenital diseases in children. This may range from craniosynostosis (premature fusion of skull bones), cleft lip and palate, jaw surgery, facial reanimation, vascular anomalies (including hemangiomas), and congenital nevi. The Texas Cleft-Craniofacial clinic is the longest-running collaborative cleft clinic in Houston, with 13 specialties offering coordinated expertise.
Hand Surgery
This includes treatment of both acute and chronic problems such as injuries (soft tissue, tendon, and bone) in the hand, carpal tunnel surgery, brachial plexus repair, arthritis of joints in the hand and wrist, and congenital hand anomalies.
Breast Surgery
This may include all forms of breast reconstruction, from implants and tissue expanders to using your own tissue (free tissue transfer). This also includes breast reduction or symmetry procedures. Finishing procedures may include nipple reconstruction or tattooing.
Cosmetic (or Aesthetic) Procedures
This includes breast augmentation or breast lift (mastopexy), liposuction, facelifts, brow lifts, rhinoplasty, eyelid surgery, and abdominoplasty. Also, a variety of adjunct procedures such as botox, fillers, lasers, and dermabrasion are offered.
High Pedestrian Alert
The Fannin facing side of the UTPB Garage Building has a high traffic of pedestrians. Please be careful when entering and exiting the parking building.
Parking Rates
| Time Range | Rate |
| --- | --- |
| Up to 1 hour | $4 |
| Up to 1 hour, 20 min | $5 |
| Up to 1 hour, 40 min | $6 |
| Up to 2 hours | $7 |
| Up to 2 hours, 20 min | $8 |
| Up to 2 hours, 40 min | $9 |
| Up to 6 hours | $10 |
| Up to 24 hours | $20 |
| Lost Ticket | $20 |
| Valet Parking – Up to 6 hours | $12 |
| Valet Parking – Up to 24 hours | $20 |
Getting to the Parking Garage
From Fannin Street (Southbound)
On Fannin Street, Take a right on the Ross Sterling light between Mac Gregor and John F. Freeman Blvd.