What started out as weight training turned into competitive bodybuilding for Nina H. Dereska, MD, urogynecologist with UT Physicians Urogynecology Center – Sugar Land.
"I started seriously weight training when I was 47," Dereska said. "Menopause occurred early for me at 43, and I started gaining weight despite a stable diet and exercise regimen. I felt so out of control for years, but then I had a friend who was a male bodybuilder, and he said, 'We're going to start counting macros.'"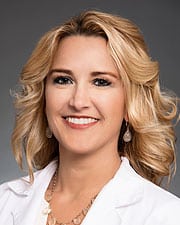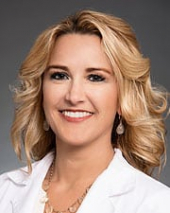 Her friend taught her about macronutrients (i.e., macros) to help with weight and fat loss. Macros are the discreet measurement of protein, carbs, and fat taken in each day, explained Dereska, assistant professor at McGovern Medical School at UTHealth Houston.
"It was really eye-opening. I was a practicing physician for 15 years in women's health, yet I wasn't eating as well as I thought I was," she said. "Lo and behold, six months passed by counting macros daily, and I lost all the weight I gained over the years from menopause."
Dereska then decided to take the next step and begin weight training to build and shape lean muscle.
"Prior to weight training, I thought boot camps, long-distance triathlons, and any activity involving long sessions of cardio were the key to weight loss, but that's not the case," Dereska said. "I changed my mindset and started weight training for the next year. That's when my friend said, 'You're ready to compete.'"
Today at age 52, the 5-foot, 5-inch bodybuilder competes in National Physique Committee (NPC) competitions in the Figure category.
"My category is in the mid-range of muscularity among the five female divisions. The focus is an overall muscular balance and a small amount of muscular separation without striations," Dereska said. "The women I compete against typically weigh between 120 and 150 at the time of a show. My weight varies 15-20 pounds between off-season and competition season."
Fall 2023 will mark her return to the stage.
"For three years straight I competed in shows, but last year in 2022 I had shoulder surgery to repair an injury unrelated to bodybuilding," Dereska said. "I had to take a break from competition, but I'll be competing again in September. I mostly compete in the Houston/Galveston area, but this year my shows include Arkansas, California, and Texas."
Dereska competes for fun and growth, not titles and money.
"I won a pro card in November '21 with the Global Bodybuilding Organization, which means I can compete for money in that organization if I want to," she said. "However, when I go to competitions, it's not to win necessarily but to improve over my last show."
Though Dereska has always been athletic, she found her passion in bodybuilding.
"I was a swimmer in high school, which led to me doing triathlons as an adult. I enjoyed those sports, but I love bodybuilding more than anything I've ever done," she said.
The bodybuilder goes to the gym to work out five or six days a week from approximately 8 to 10 p.m.
"First and foremost, I do it for stress release," Dereska said. "I see patients all day long, and I work long hours, so I'm often wound up from the day. Weight training releases the day's stress, and my late evening workout promotes better sleep."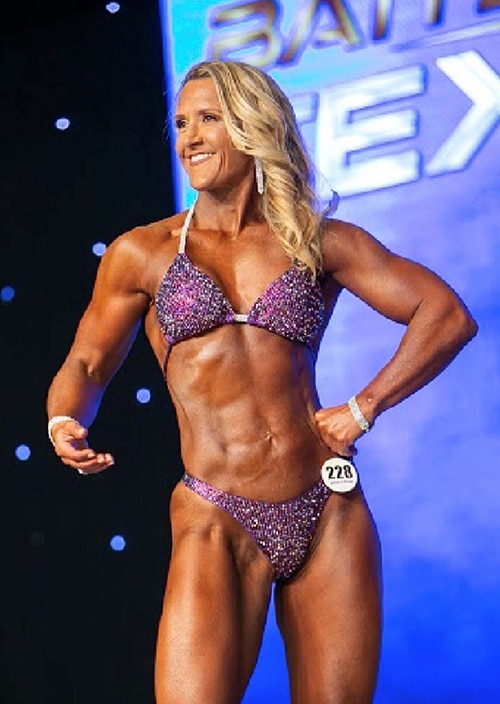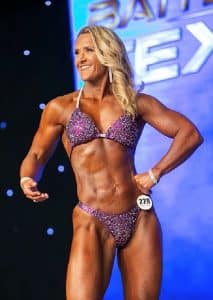 "I'm also not just building my muscles, but my bone density. Women need to do weight-bearing exercises to build their bones, especially when they reach menopause," she added.
Dereska also continues to learn more about diet and fitness each passing year.
"I still learn all the time," Dereska said. "Diet is 80% of the success in my sport, and injury prevention is key."
Bodybuilding has also allowed the surgeon to be part of another community.
"It's nice to have a community that supports you in your personal goals," Dereska said. "When I was doing triathlons, I often trained alone. It's nice to be in an individual sport, but it's even better to be part of a team."
Like most doctors, Dereska does not usually share her hobby with her patients. However, when competition season begins, patients often beg the question.
"I wear scrubs every day. Sometimes you can't really tell how muscular I am, but within a month of a show, it's unmistakable," she said.
When asked about her hobby, she lets people know that she started at age 47.
"Change can happen at any age, but the motivation and community of support has to be there," Dereska said. "Long hours or other responsibilities shouldn't deter you from prioritizing yourself for a short time every day. No matter what sport or activity you try, it's wonderful to see the transformation in yourself."