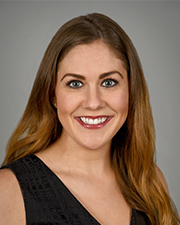 ---
Alana C. Cecchi, CGC

Specialty:
Clinical Interests:

Aortic and vascular disease
Education/Training
Graduate School
University of Cincinnati, 2011
---
Alana is a board-certified genetic counselor who specializes in aortic and vascular disease. She sees patients of all ages and is interested in improving the early identification of patients and families with hereditary predispositions to aortic and vascular disease through genetic testing and screening.
Alana is an assistant professor in the Division of Medical Genetics with the Department of Internal Medicine at McGovern Medical School. She conducts clinical research as part of the John Ritter Research Program and sees patients for genetic counseling and risk assessment in the Multidisciplinary Aortic and Vascular Disease Clinic at UT Physicians.
After finishing her graduate training at Cincinnati Children's Hospital, Alana joined the aortic and vascular genetics team at The University of Texas Health Science Center at Houston (UTHealth) in 2011.
In 2014, Alana left UTHealth to join a San Francisco-based healthcare technology company dedicated to genetic testing and disease prevention in women's health. Four years later, she returned to UTHealth in 2018 to continue her passion for working with patients and families affected by genetically-triggered aortic and vascular diseases. She is concurrently working on her doctorate at The University of Texas MD Anderson Cancer Center UTHealth Graduate School of Biomedical Sciences.