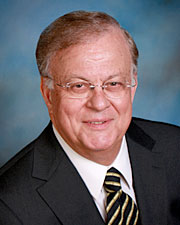 ---
Atilla Ertan, MD

Specialty:
Clinical Interests:

Inflammatory Bowel Diseases, Crohn's Disease, Ulcerative Colitis, Various Microscopic Colitides, Biliary/Pancreatic Benign and Malignant Disorders, Barrett's Esophagus with Dysplasia
Board Certification:

American Board of Internal Medicine
Internal Medicine
Gastroenterology
Education/Training
Medical School
University of Ankara School of Medicine, 1963
Residency
University of Ankara School of Medicine, 1967
Fellowship
University of Pennsylvania, 1969
---
Dr. Atilla Ertan is a board-certified physician and professor for the Department of Internal Medicine at McGovern Medical School at The University of Texas Health Science Center at Houston (UTHealth). He is also the medical director of the Ertan Digestive Disease Center of Excellence at Memorial Hermann Hospital-Texas Medical Center.
He has experience in the diagnosis and management of patients with inflammatory bowel diseases, including Crohn's disease, chronic ulcerative colitis, microscopic colitides, biliary/pancreatic benign and malignant disorders, Barrett esophagus with dysplasia and early cancer, and advanced GI endoscopic therapeutic procedures. His clinical research focused on new management options in patients with refractory IBD and Barrett dysplasia & early cancer.
Dr. Ertan has achieved national and international recognition as an outstanding clinical scientist, excellent educator, prolific researcher, and skillful administrator in the field of gastroenterology by the national gastroenterology associations and organizations. He has published over 180 articles in peer review journals, book chapters, books, and has received numerous awards and honors, such as the Medicine Science Award by the TUBITAK in 1992, the Best Gastroenterologist Award by the CCFA Houston Chapter in 2002, the Distinguished Clinician Award by the American Gastroenterology Association (AGA) in 2003, the Master in Gastroenterology Award by the American College of Gastroenterology (ACG) in 2003 and the Fellow by AGA in 2007. He has been named to the Top Doctor's in Houston and in U.S. since 1995 & Leading Physician of the World by the International Association of Healthcare Professionals of America in 2012. He is also selected among the 160 gastroenterology leaders in the USA by the Becker's ASC Review in 2014.
Dr. Ertan has been active in various national and international GI societies. He has served on the AGA's Education Committee (1994-97), the International Liaison Committee (1999-03), the ACG's International Relations Committee (Chair, International GI Training Subcommittee, 1994-98) and the Educational Affairs Committee (Chair 1999-01). He currently serves on the Editorial Boards of five different medical journals.