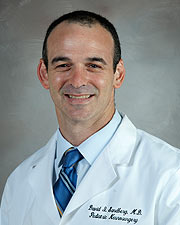 ---
David I. Sandberg, MD
Specialty:
Clinical Interests:

Pediatric Brain Tumors, Minimally Invasive Endoscopic Approaches to Brain Tumors and Hydrocephalus, Congenital Spinal Anomalies, Vascular Malformations, Spasticity, Craniofacial Disorders in Children
Board Certification:

American Board of Neurological Surgery
Education/Training
Medical School
John Hopkins University School of Medicine, 1997
Residency
Weill Medical College of Cornell University, 2003
Fellowship
Children's Hospital Los Angeles, 2004
---
Dr. David I. Sandberg is Associate Professor and Director of Pediatric Neurosurgery at McGovern Medical School at The University of Texas Health Science Center at Houston (UTHealth).
Dr. Sandberg specializes in minimally invasive endoscopic approaches to brain tumors, hydrocephalus and arachnoid cysts, as well as surgical management of arteriovenous malformations of the brain, congenital spinal anomalies, spasticity and craniofacial anomalies.
Dr. Sandberg's major research interests focus on novel means of delivering therapeutic agents into the brain for the treatment of childhood brain tumors. He has developed translational research models in piglets and primates and is currently initiating a Phase I clinical trial based upon these research efforts. The recipient of numerous research grants, Dr. Sandberg is currently investigating direct administration of chemotherapy into the fourth ventricle for treatment of malignant posterior fossa tumors of childhood.
Dr. Sandberg is editor of the ISPN Guide to Pediatric Neurosurgery, Tumor Section, and is an ad hoc reviewer for a number of neurosurgery and neuroscience journals. He has co-authored textbook chapters and numerous manuscripts in peer-reviewed journals including Neurosurgery, Journal of Neurosurgery: Pediatrics, Journal of Neuro-Oncology, Journal of Child Neurology and Pediatric Neurosurgery.