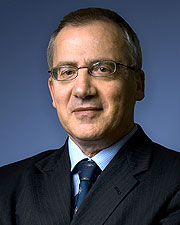 ---
Giuseppe N. Colasurdo, MD

Specialty:
Clinical Interests:

Gene-environment interactions, development of childhood asthma, wheezing, asthma and chronic lung disease in infancy
Board Certification:

American Board of Pediatrics
Pediatric Pulmonology
Education/Training
Medical School
University of G. D'Annunzio School of Medicine, 1985
Residency
University of Texas Medical Branch, 1991
Fellowship
University of Colorado Health Science Center, 1994
---
An internationally known researcher and pediatrician, Giuseppe N. Colasurdo, M.D., was appointed president of The University of Texas Health Science Center at Houston (UTHealth) and the Alkek-Williams Distinguished Chair Oct. 22, 2012.
He became dean and H. Wayne Hightower Distinguished Professor in the Medical Sciences of the John P. and Kathrine G. McGovern Medical School, a part of UTHealth, Sept. 1, 2007 and served in that role until Oct. 1, 2015.
Born in Morrone Del Sannio, Italy, Dr. Colasurdo completed his undergraduate education at The Liceo Scientifico "Galileo Galilei" in Pescara, Italy. He earned his medical degree summa cum laude from G. D'Annunzio School of Medicine in Chieti, Italy. Determined to achieve the best medical training in the world, Dr. Colasurdo came to the United States in 1988.
He completed his residency at The University of Texas Medical Branch in Galveston and his fellowship at the University of Colorado Health Science Center and the National Jewish Medical and Research Center in Denver. In Colorado, he worked in the laboratory of Dr. Gary L. Larsen and initiated his studies on the autonomic regulation of the airway smooth muscle, the biology of respiratory syncytial virus (RSV) infection, and ontogeny of airway dysfunction and inflammation in childhood asthma.
Dr. Colasurdo joined McGovern Medical School's faculty in 1995 as an assistant professor of pediatrics in the Division of Pulmonary Medicine. He became the division head in 1997 and started directing the fellowship training program in pediatric pulmonary medicine in 2001. He served as chair of the Department of Pediatrics from 2005 to 2011.
Dr. Colasurdo specializes in RSV, pediatric asthma, and other lung disorders in infants and children. Dr. Colasurdo has received research funding from the National Institutes of Health, the Children's Miracle Network, and the Cystic Fibrosis Foundation.
Dr. Colasurdo's numerous awards include the Dean's Excellence Award, the David W. Smith Trainee Award from the Western Society for Pediatric Research, the Basic Scientist Development Award from the National Institutes of Health, Houston's Executive Communicator of the Year Award from the International Association of Business Communicators and the Distinguished Alumnus Award from the Department of Pediatrics at The University of Texas Medical Branch.  Additionally, he was elected to faculty membership in the Alpha Omega Alpha Honor Medical Society-Houston Delta Chapter, received the Facolta di Medicina e Chirurgia Award from the G. D'Annunzio School of Medicine in Chieti, Italy and received the Knight of the Order of Merit of the Italian Republic, presented by the Consul General of Italy.