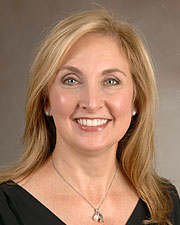 ---
Jeana Kelly, PA
Specialty:
Board Certification:

National Commission on Certification of Physician Assistants
Education/Training
Graduate School
University of Texas Medical Branch at Galveston, 2000
---
Jeana Kelly is a Physician Assistant in the Department of Orthopedic Surgery at McGovern Medical School at The University of Texas Health Science Center at Houston (UTHealth).
Jeana has been with UTHealth since 2005. She worked for 5 years with the Trauma Team of the Department of General Surgery, including being the only Physician Assistant to ever work in the Shock Trauma ICU. She then moved to the Orthopaedic Trauma service in 2010. She has worked with Dr. John Munz for over 10 years, serving as his practice's Physician Assistant since 2011.
Jeana has been instrumental in developing and running the Bone Health Clinic, in conjunction with Dr. James Kellam and Denise Hansen, PA-C. The Bone Health Clinic works to optimize bone health by identifying and treating osteoporosis and applying a multi-disciplinary approach to treating and preventing fragility fractures.
Certified by the National Commission on Certification of Physician Assistants, Jeana is an active member of several professional organizations including: American Academy of Physician Assistants, Texas Academy of Physician Assistants, Physician Assistants in Orthopaedic Surgery, Orthopedic Trauma Association and AO Trauma North America.
Jeana is very passionate about her specialty and has attended advanced level training in orthopaedic trauma during the AO course, "Basic Principals of Fracture Management for Orthopaedic Surgeons" and the Orthopaedic Trauma Association's "Resident Comprehensive Fracture Course".