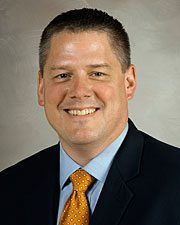 ---
Matthew E. Koepplinger, DO
Specialty:
Board Certification:

American Osteopathic Board of Orthopedic Surgery
Orthopaedic Surgery
Education/Training
Medical School
Ohio University/College of Osteopathic Medicine, 2003
Residency
St. Vincent Mercy Medical Center, 2008
Fellowship
Baylor College of Medicine, 2009
---
Dr. Matt Koepplinger is an Assistant Professor in the Department of Orthopedic Surgery at The University of Texas Health Science Center at Houston.
Certified by the American Osteopathic Board of Orthopedic Surgery, Dr. Koepplinger specializes in Hand and Upper Extremity surgery. Dr. Koepplinger treats variety of disorders, including trauma and fractures, ligamentous injuries, tendon, and nerve, and arthritis of the shoulder, wrist, elbow, and hand. He also treats Carpal Tunnel Syndrome, Cubital Tunnel Syndrome, Trigger Finger, Tennis Elbow, and other sports injuries of the upper extremities.
Dr. Koepplinger is a member of several professional organizations, including the American Osteopathic Association, the American Osteopathic Academy of Orthopedics, and the American Society for Surgery of the Hand.
Memberships
American Osteopathic Association, 1999–Present
American Osteopathic Academy of Orthopaedics, 2004–Present
Candidate Member, American Society for Surgery of the Hand, 2005–Present