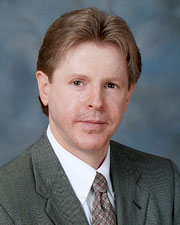 ---
Michael R. Migden, MD

Specialty:
Clinical Interests:

Nose Surgery and Reconstruction, Cutaneous Surgical Oncology, Cutaneous Oncology, and Aesthetics
Board Certification:

American Board of Dermatology
Dermatology
Education/Training
Medical School
University of Utah School of Medicine, 1997
Residency
Mayo Clinic, 2001
Fellowship
University of Texas MD Anderson Cancer Center, 2006
---
Dr. Michael Migden is a board certified Physician and Assistant Professor for the Department of Dermatology at McGovern Medical School at The University of Texas Health Science Center at Houston (UTHealth). He is a strong advocate of utilizing a methodical and detailed approach with his patients. He also has a very high standard for surgical outcomes.
Dr. Migden primarily sees adults, focusing on tumors and aesthetics. He is interested in functional medicine and general health pursuits. Dr. Migden is a proud member of the American Society of Clinical Oncology and the European Academy of Dermatology and Venereology.
Awards and Honors
Fellow in Clinical Safety and Effectiveness, University of Texas – M.D. Anderson Cancer Center, 2007-present
Golden Key National Honor Society, University of Utah
Summa Cum Laude, University of Utah
Western Student Medical Research Subspecialty Award in Hematology
Wood Memorial Scholarship
Professional Organizations
American College of Mohs Micrographic Surgery and Cutaneous Oncology, Member, 2005-present
American Society of Clinical Oncology, Alexandria, VA, Member, 2/2014-present
European Academy of Dermatology and Venereology, Switzerland, Member, 9/2014-present
American College of Mohs Surgery's Video Library Committee, Chair, 8/2015-4/2017
American Academy of Dermatology, Member
American College of Phlebology, Chairman, DVD/Distance Learning Advisory Committee
American Medical Association, Resident/Fellow Member
Fellow of the American Society for Dermatologic Surgery
Minnesota Medical Association, Member
Zumbro Valley Medical Association, Member
Harris County Medical Society, Houston, TX
Houston Dermatological Society, Houston, TX
Texas Dermatological Society, Member
Research
Principal Investigator, Spectral Diagnosis of Cutaneous Malignancy, 2008-0856, 2007-present, University of Texas-Austin Biomedical Engineering Department
Principal Investigator, A Pivotal Phase II, Multicenter, Single-Arm, Two-Cohort Trial Evaluating the Efficacy and Safety of GDC-0449 in patients with advanced Basal Cell Carcinoma, 2008-0585, 2008-2014, Genentech
Principal Investigator, A Phase II, randomized double blind study of the efficacy and safety of 2 dose levels of LDE225, in patients with locally advanced or metastatic basal cell carcinoma., 2011-0022, 2011-present, Novartis
Principal Investigator, A study to evaluate the psychometric properties of two newly developed questionnaires for use in adult patients with advanced basal cell carcinoma and basal cell carcinoma nevus syndrome., 2012-0672, 2012-2014, Health Outcome Solutions
Collaborator, Body Image Functioning in Cancer Patients Undergoing Facial Reconstruction, 2009-0784, PI – Fingeret M, 2012-present, American Cancer Society
Principal Investigator, A randomized, double-blind, placebo-controlled, phase II study to assess the efficacy and safety of oral vismodegib for the treatment of basal cell carcinoma preceding excision by Mohs micrographic surgery, 2013-0434, 2013-2014, Genentech
Principal Investigator, Protocol 14J-MC-HHBB(c), A Phase 1 Dose-Escalation Study of LY2940680 in Patients with Advanced Cancer, 2012-1048, 2013-present, Eli Lilly
Collaborator, A Phase II, open-label, multicenter trial to investigate the clinical activity and safety of MSB0010718C in subjects with Merkel cell carcinoma, 2014-0542, PI – Ferrarotto R, 2014-present, EMD Serono
Principal Investigator, A Phase 2 study of REGN2810, A fully Human Monoclonal Antibody to Programmed Death – 1 (PD-1), in Patients with Advanced Cutaneous Squamous Cell Carcinoma, 2015-1114, 2015-present, Regeneron Pharmaceuticals, Inc.
Collaborator, Phase II Study of MPDL3280A Prior to Surgery in Patients with Advanced-Stage, Resectable Cutaneous Squamous Cell Carcinoma of the Head and Neck, MPDL3280A, PI – Gross N, 2015-present, Genentech
Principal Investigator, Personal digital device/cellular biopsy site confirmation, 2009-0778, 2008-present
Collaborator, Isolation and Use of Human Cells from Human Skin Cancers, LAB08-0750, PI – Tsai K, 2010-present