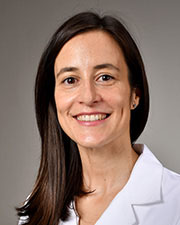 ---
Languages
English, Spanish
Nuria Lacuey Lecumberri, MD, PhD
Specialty:
Clinical Interests:

Epilepsy, Surgical Treatment of Epilepsy, Stereoelectroencephalography (SEEG), Clinical Neurophysiology, Intraoperative Monitoring, Critical Care EEG
Education/Training
Medical School
Universidad de Navarra, 2007
Graduate School
Vall d'Hebron University Hospital, 2015
Fellowship
Case Western Reserve University, 2016
Fellowship
University Hospitals of Cleveland, 2015
Residency
Vall d'Hebron University Hospital, 2012
---
Nuria Lacuey Lecumberri, MD, has been practicing medicine since 2008. She sees adult patient for a variety of neurological disorders and conditions. Dr. Lacuey Lecumberri is fellowship trained in epilepsy and neurophysiology. She has been published in numerous articles and in 2018, was awarded a PhD Cum Laude for her thesis on sudden unexpected death in epilepsy.
When not seeing patients, she is an assistant professor within the Department of Neurology. Her current research studies include "the analysis of breathing during epileptic seizures" and "the localization of brain areas involved in breathing regulation."
Awards/Recognitions:
National Institute of Neurological Disorders and Stroke (NINDS) UCB Center for Sudden Unexpected Death in Epilepsy (SUDEP) Research Pilot award. April, 2017.
PhD Thesis in Medicine. Cum Laude. September, 2018. UAB (Spain).
Publication Information: For more articles, visit here.
1. Ictal Central Apnea (ICA) may be a useful semiological sign in invasive epilepsy surgery evaluations. Nuria Lacuey, Normal J. Hupp, Johnson Hampson and Samden Lhatoo. Epilepsy Research, 2019 Jul 10. PMID: 31330483.
2. Postictal serotonin levels are associated with peri-ictal apnea. Murugesan A, Rani MRS, Vilella L, Lacuey N, Hampson JP, Faingold CL, Friedman D, Devinsky O, Sainju RK, Schuele S, Diehl B, Nei M, Harper RM, Bateman LM, Richerson G, Lhatoo SD. Neurology, 2019 Sep 4.
3. The association of serotonin reuptake inhibitors and benzodiazepines with ictal central apnea. Nuria Lacuey, Rita Martins, Laura Vilella, Johnson P. Hampson, M. R., Sandhya Rani, Kingman Strohl, Anita Zaremba, Jaison S. Hampson, Rup K. Sainju, Daniel Friedman, Maromi Nei, Catherine Scott, Brian K Gehlbach, Norma J. Hupp, Stephan Schuele, Jennifer Ogren , Ronald M. Harper, Luke Allen, Beate Diehl, Lisa M. Bateman, Orrin Devinsky, George B. Richerson and Samden Lhatoo. Neurology 2019 Sep 4. PMID: 31484709
4. Limbic and paralimbic structures driving ictal central apnea. Lacuey N, Hampson J, Miller J, Harper R and Lhatoo S. Neurology, 2019, Jan. 11. PMID: 30635481
5. The incidence and significance or periictal apnea in epileptic seizures. Lacuey N, Zonjy B, Hampson JP, Rani MRS, Zaremba A, Sainju RK, Gehlbach BK, Schuele S, Friedman D, Devinsky O, Nei M, Harper RM, Allen L, Diehl B, Millichap JJ, Bateman L, Granner MA, Dragon DN, Richerson GB, Lhatoo SD. Epilepsia. 2018 March;59(3):573-582.