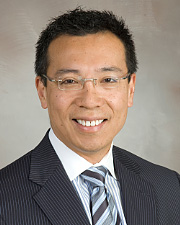 ---
Peng R. Chen, MD
Specialty:
Board Certification:

American Board of Neurological Surgery
Education/Training
Medical School
Sun Yat-Sen University Medical School, 1987
Residency
The First Affiliated Hospital of Sun Yat-Sen , 1995
Residency
Harvard Medical School, 2003
Fellowship
Harvard Medical School, 2004
Fellowship
Barrow Neurological Institute of St. Joseph Hospital, 2005
Fellowship
Thomas Jefferson University Hospital, 2006
---
Dr. Peng Chen is an Associate Professor for the Department of Neurosurgery at McGovern Medical School at The University of Texas Health Science Center at Houston (UTHealth).
Dr. Chen is a board-certified neurosurgeon sub-specializing in open cerebrovascular, endovascular neurosurgery, and skull base neurosurgery, with expertise in brain aneurysms, arteriovenous malformations, carotid disease, acoustic neuroma and skull base tumors.
Dr. Chen has authored and co-authored many peer-reviewed publications in cerebrovascular disease and other subjects in neurosurgery, particularly flow shearing related brain aneurysm formation, subarachnoid hemorrhage management and surgical and endovascular techniques in treating brain aneurysms.
He is currently the Principal Investigator for a multi-center randomized clinical trial in the treatment of cerebral vasospasm following subarachnoid hemorrhage, due to brain aneurysm rupture. He is involved in multiple clinical trials using the latest endovascular technology in the treatment of brain aneurysms and carotid disease, as well as brain AVMs (arteriovenous malformations).
One of Dr. Chen's specialties includes treatment of brain occlusive disease (for example moyamoya disease, which causes stroke), by performing extracranial to intracranial bypass anastomosis surgery. His expertise includes treating a large number of complex acoustic neuromas and other skull based meningiomas.