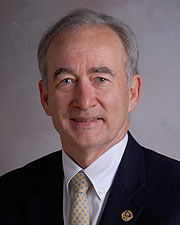 ---
Richard W. Smalling, MD

Specialty:
Clinical Interests:

Structural Heart Disease including Percutaneous Aortic Valve Replacement (TAVR), Percutaneous Mitral Valve Repair (E-Valve), Mitral Valvuloplasty, Percutaneous ASD Repair, Septal Coiling for HOCM., Peripheral Vascular Interventions Including Limb Salvage, Percutaneous EVAR under local anesthesia, and Carotid Stenting, Advanced Coronary Interventions including CTO and High Risk, Supported PCI with Percutaneous LV Assist
Board Certification:

American Board of Internal Medicine
General
Cardiovascular Disease
Interventional Cardiology
Education/Training
Medical School
University of Texas Health Science Center at Houston, 1975
Residency
University of California San Diego Medical Center, 1978
Fellowship
University of California San Diego Medical Center, 1980
---
For referrals to Dr. Richard Smalling, please call 713-500-8828.
Named an America's Top Doctor for the past 14 years, Richard Smalling, M.D., has received a number of professional and service awards including the Distinguished Service Award from the American Heart Association Texas Affiliate. He is on the editorial boards of Catheterization and Cardiovascular Interventions and The Journal of Interventional Cardiology. In addition, he holds several patents and has co-founded a company, Windmill Cardiovascular Systems, to produce a new implantable left ventricular assist device.
Dr. Smalling specializes in the treatment of adult congenital heart disease, and valvular heart disease percutaneously as well as peripheral vascular disease interventions including carotid stenting and percutaneous endovascular repair of abdominal aortic aneurysm. Additionally, his team is experienced in utilizing left ventricular assist devices to support high risk coronary angioplasty and complicated valve treatment procedures.
His research interests include advanced intravascular imaging procedures for coronary artery disease, mechanical and pharmacologic reduction of ischemic myocardial injury and developing advanced heart attack treatment systems.
Dr. Smalling is the author of over 240 Scientific Papers, 145 abstracts, 25 book chapters, 2 books, and more than 15 web based CME articles. He and his wife Sharon have 3 children, Geoffrey, Elizabeth and Stephanie and 2 grandchildren. They enjoy cooking, cycling, skiing and traveling together.
James D. Woods Distinguished Chair in
Cardiovascular Medicine
Professor and Director of
Interventional Cardiovascular Medicine