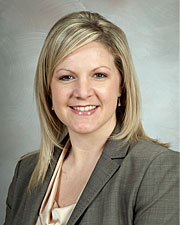 ---
Summer Ott, PsyD

Specialty:
Clinical Interests:

Neuropsychology, Orthopaedic Surgery, Orthopaedic Surgery Concussion Program
Education/Training
Graduate School
Forest Institute, 2005
Fellowship
University of Pittsburgh Medical Center, 2007
---
Dr. Summer Ott, is an associate professor in the Department of Orthopedic Surgery at McGovern Medical School at The University of Texas Health Science Center at Houston (UTHealth). She also serves as the director of the Concussion Program at Memorial Hermann Ironman Sports Medicine Institute.
Dr. Ott is a neuropsychologist specializing in sports-related concussions. She has extensive clinical and research experience with sports-related concussions. She currently serves as the team neuropsychological consultant for the Houston Texans and Houston Rockets, as well as many universities and school districts in Texas. Previously, Dr. Ott served as a neuropsychology consultant for the Houston Dynamo and the Houston Aeros.
Her research efforts focus on proper baseline testing, concussion in female athletes, effects of physical exertion on cognition, and long-term consequences of repeated head injury in athletes. Dr. Ott has co‐authored publications on neuropsychological assessment in scholarly journals and frequently conducts presentations regarding proper management of concussion.
She is a founding member of a national organization, the Sport Neuropsychological Society. Recently, Dr. Ott served as a concussion expert on a task force that developed verbiage for a sports concussion bill (Senate Bill 2038 Natasha's Bill). The bill establishes proper management and return-to-play guidelines for concussed school aged athletes and was signed into law in June 2012.