Twelve-year-old Gizelle Rodriguez is an impassioned, young athlete – especially when it comes to volleyball. Participating both with her school and a competitive club team, she plays throughout most of the year, including taking part in skills camps during the summertime.
When an unexpected head injury occurred during one of her club team matches in April, Gizelle had hoped it was minor and the pain would diminish quickly. What it turned out to be was much more serious, requiring consultation and time away from her favorite pastime to heal.
"It happened during warmups, when one of her teammates came swinging for a ball. They inadvertently missed the ball and struck her in the head," said Gizelle's mother, Nancy Guerrero.
After applying ice to Gizelle's head at the site of the hit, Gizelle still finished competing in her team's match. In fact, she even went to a friend's sleepover that evening. It was at the following practice where residual effects of the prior day's injury surfaced.
"When I got hit the day before, I felt the pain on the side of my head and behind my eyes," Gizelle said. "I thought it was just hurt a little bit, but it turned out to be worse."
The club team coach shared with Nancy that Gizelle was complaining of headaches and struggling to play throughout the practice. She recommended that the family seek a medical evaluation.
Following consultation with a primary physician, Gizelle was restricted from sports activity for two weeks. She would later start freestyle swimming in May, but was forced to stop again when the headaches resurfaced, now more painful than during the initial volleyball injury.
Seeking help; getting answers
Acting on the advice of Gizelle's junior high school coach, Nancy connected with Summer Ott, PsyD, neuropsychologist and concussion specialist with UT Physicians.
"Once we were in contact with Dr. Ott's office, things moved quickly. The clinical coordinator Carey Goode took a few notes over the phone, and immediately scheduled our first appointment," Nancy said. "I was so happy to have found a resource to figure things out."
Within a few days, Gizelle met with Ott to get an assessment. The appointment began with a series of questions to collect details of how the injury first occurred, followed by a physical screening exam to test balance, postural stability, and cognitive ability.
"The family told me about the persistent headaches and dizziness, which sounded as though they had worsened following the volleyball injury due to the swimming regimen," said Ott, who is an associate professor in the Department of Orthopedic Surgery at McGovern Medical School at UTHealth Houston. "Gizelle also showed signs of cognitive decline, which was in contrast to the information I learned concerning her academic history. Based on my findings, I determined she had definitely suffered a concussion."
Ott added that she had observed during the physical exam irritation in the nerves along Gizelle's neck, which was likely from the sudden jolt her body experienced from the hard hit.
"A shock like an unexpected blow to the upper body can cause whiplash, rotating the head in a negative fashion and affecting occipital nerves in the back of the head," Ott explained. "This can result in painful neck strain and requiring more time to recover."
Getting expert guidance from Ott greatly relieved Nancy's concerns.
"While the concussion was naturally not ideal, Dr. Ott's analysis was great – a definitive explanation of the condition," Nancy said. "Now we could focus on what to do to get Gizelle better."
Adjusting to the sideline; sticking to the plan
Once Ott provided a diagnosis, it was time to develop a treatment plan. The first step would involve stepping back from Gizelle's active sports schedule – news that was difficult to take in.
"When I heard I wasn't going to be able to play volleyball for now, I just wanted to cry," Gizelle said. "I was captain for my club team, and I was going to be selected for my school team. I was so looking forward to being on the court."
Ott gave encouragement to Gizelle concerning what was needed moving ahead and that the temporary break from activity would be for the greater good.
"Seeing Gizelle's face and the tears – it just brought out the 'mom' in me. It's always hard keeping someone from what they love to do," Ott said. "I assured her that she was doing the right thing, and she would recover well as long as she kept up with her therapy."
As part of recovery, Ott prescribed a regimen of incremental physical therapy. As Gizelle's condition improved over time, the duration of activity could be increased.
At home, Nancy supported Ott's treatment plan, encouraging Gizelle's daily adherence to rest and therapy. She also followed up with Gizelle's pediatrician to update them on the progress, plus connecting the physician with Ott.
"I did give some motivational pushes to Gizelle, when it was needed," Nancy said. "Most of all, it was about being encouraging. I would remind Gizelle that the treatment would benefit her for the future."
By midsummer and Gizelle's next appointment with Ott for retesting, her headaches had stopped. In addition, the results from her physical screening exam were greatly improved from her initial appointment. Ott credits this outcome to a collective effort – from family and providers alike.
"What really impressed me concerning Gizelle's treatment were the levels of support around her," Ott explained. "Beginning with supportive parents at home, it was supplemented by the initial care from Gizelle's pediatrician, the referral from a school-affiliated athletic trainer, and the specialist consultation regarding her concussion, which I was glad to contribute. It was a true case of interdisciplinary teamwork and indicative of the cooperation you would see for a collegiate or professional athlete."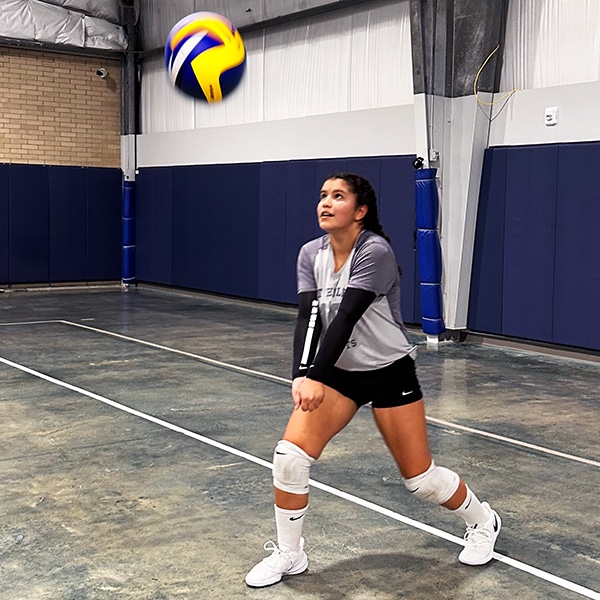 Back on the court; lessons learned
As Gizelle begins the school year and returns to volleyball, she is in good health and knows better how to care for her well-being.
Likewise, Nancy and Gizelle's father Chris Rodriguez were extremely proud of how their daughter handled the injury and recovery.
"The entire experience revealed valuable lessons. For Gizelle, she learned how to better listen to her body and gained wisdom in being true to herself. I feel if an injury occurred now, she would be aware of the symptoms and know if she needed to step out of a match," Nancy said. "For myself, it reinforced my confidence in asking questions. I would tell others that if they see something out of character in their child, don't dismiss it. Make an appointment with your doctor."