For a man who's been surfing and water skiing for 60 years, Roy Gray wasn't ready to give up water sports due to knee pain. His dad started taking him to Bastrop Bayou (about 60 miles south of Houston) when he was 10 years old, and it evolved into his lifetime passion.
Activity and adventure are an understatement to describe Roy, age 70, and his zest for life. His active lifestyle through the years includes motocross racing, motorcycle racing, snow skiing, and scuba diving in addition to the water sports. It's only been recently that he stopped riding his motocross bike.
As a result of his activities, Roy has a history with broken bones. Unfortunate events through the years caused him to break his back, hip, arm, leg, elbow, and most recently his foot, two years ago. All of his broken bones have been on his left side. He also tore the ACL on his left knee. Roy hobbled on his left leg for about 20 years, he said, before he got his ACL repaired in 2000.
"With those kind of water sports, you have to be able to count on your knee, and you can't really wear a knee brace out there," Roy said. "I did wear a knee brace water skiing the last 10 years, but not surfing."
Needing a change
Roy's knee gave out a couple of times in fall 2022. When it started affecting his life and his daily decisions, Roy decided to explore his options with a physician. He visited Andrew Li-Yung Hing, MD, orthopedic sports medicine specialist at UT Physicians and associate professor in orthopedic surgery at McGovern Medical School at UTHealth Houston. Based on Roy's condition and goals, Li believed surgery would be a better option than injections to provide a more permanent solution. Roy had a schedule and agenda in his mind based on a big vacation planned to Honduras in June 2023 to scuba dive with family. He wanted to pursue knee surgery in January to have time to get strong again.
Li recommended Roy see Zayde Radwan, MD, orthopedic surgeon at UT Physicians and assistant professor in orthopedic surgery at McGovern Medical School. Radwan diagnosed Roy with tri-compartmental, post-traumatic osteoarthritis, which was likely caused by his prior knee injuries. This is different than traditional osteoarthritis which is often referred to as wear-and-tear arthritis and is the most common type of knee arthritis. Roy was bone-on-bone, especially in his lateral compartment, the outside of the knee. Radwan recommended a total knee replacement.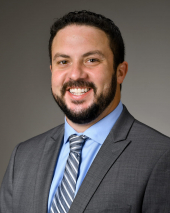 Radwan's motto: If you're not living because of your knee and/or the fear that your knee is going to give out, then you should get something done to continue living. Tomorrow is not guaranteed, he said.
In January 2023, Radwan performed Roy's knee replacement surgery. During the procedure, Radwan completed more soft tissue balancing than usual, as a result of Roy's valgus deformity, or knock-kneed condition. The extra soft tissue balancing was required to get Roy's knee stable for the type of activities he wanted to return to. This was a unique aspect of Roy's case.
"Those types of knees are a little more challenging, surgically, to balance and get right," Radwan said. "Roy also had a higher risk of infection and stiffness after surgery due to his previous operations and poor preoperative range of motion."
Radwan said patients heal faster and have better range of motion when the surgeon takes the time during surgery to balance the knee, meaning they have the same laxity throughout a full range of motion. He believes that effort, combined with early hard work in therapy, helps patients achieve their goals more quickly and leads to better outcomes.
Focusing on recovery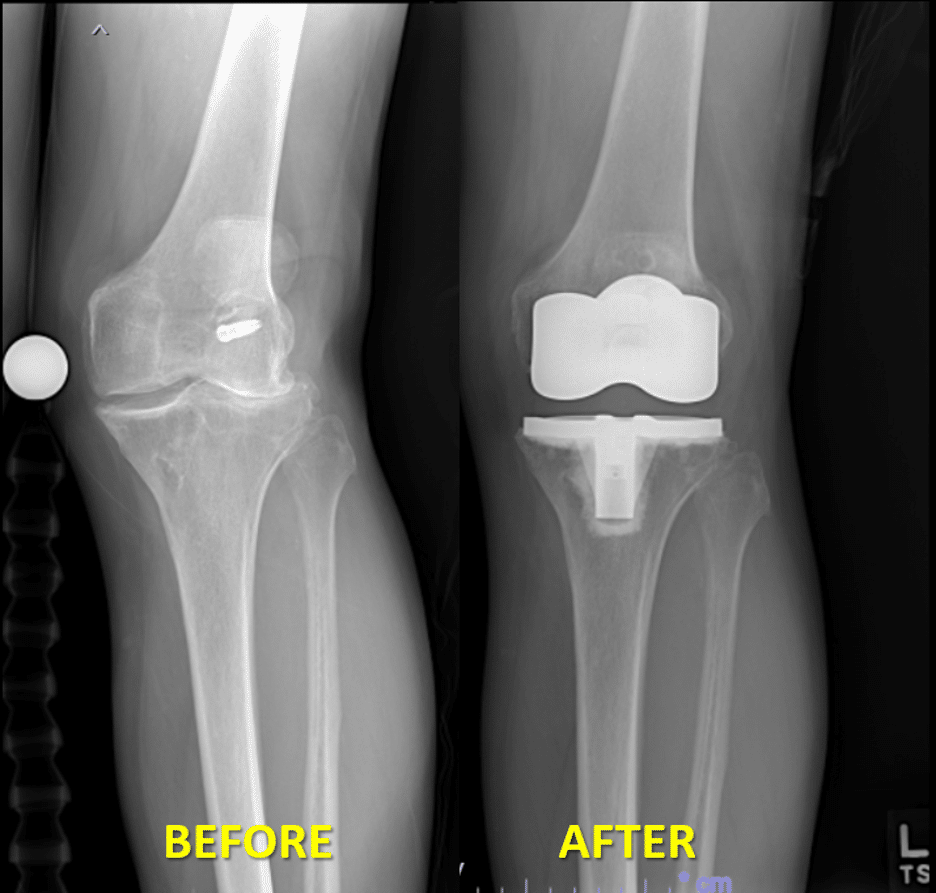 Roy worked hard in physical therapy to get his knee and surrounding muscles strong, going two to three times a week for several months. One day, the therapist told Roy he had reached his maximum range of motion. His response: "Well, that's still not enough to go water skiing, so we have to get it all the way like the other one. It can't be stopping halfway!"
Roy said he's learned through the years the importance of therapy. "You need a good surgeon, but you also have to do the therapy," he said. "Otherwise, you won't get back to where you want to be."
Radwan said Roy's quicker recovery also relates to him as a person and his work ethic. He thought it would be at least a year before Roy could do significant skiing on his knee, because he likes to slalom ski about five miles every day. But Roy got back to surfing at three months and slalom skiing at six months.
"I didn't know if Roy would be able to be as competitive as he wanted, but he's kind of blown all that out of the water," Radwan said. "I told him, 'When I grow up, I want to be like you.' He's not your typical 70-year-old who just wants to get to social events, the grocery store, and home," Radwan laughed. "Every time I see him on the schedule, I know it's going to be a bright spot in the day."
Roy is so pleased with the surgical process and results.
"I'm glad I got it fixed. I can ski now without a brace, and it feels strong and solid," Roy said. "I don't have to worry about it giving out now. That helps your confidence a lot to have fun!"