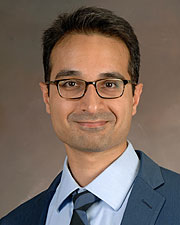 ---
Sunil A. Sheth, MD
Specialty:
Clinical Interests:

Ischemic stroke, intracranial hemorrhage, subarachnoid hemorrhage, endovascular treatments for stroke, endovascular treatments for cerebral aneurysms, cerebral vascular malformations including arteriovenous malformations and arteriovenous fistulas, spinal vascular malformations, facial vascular malformations, tumor embolization
Board Certification:

American Board of Psychiatry and Neurology
General
Vascular Neurology
Vascular and Interventional Radiology
Education/Training
Medical School
Harvard University, 2009
Internship
Stanford University Clinic-Palo Alto, 2010
Residency
University of California, San Francisco, 2010
Fellowship
University of California-Los Angeles, 2014
Fellowship
University of California-Los Angeles, 2016
---
Sunil A. Sheth, MD, is a board certified vascular neurologist specializing in in endovascular treatments for cerebral and spinal vascular diseases. He has expertise in the treatment of ischemic and hemorrhagic stroke, brain aneurysms, arteriovenous malformations, fistulas, as well as facial and spinal vascular malformations.
Dr. Sheth is originally from Houston and attended Harvard University, graduating magna cum laude with an A.B. in chemistry and physics.  He received his MD from Harvard Medical School and Massachusetts Institute of Technology where he was enrolled in the Health Sciences and Technology Program. He graduated magna cum laude and was also awarded a Howard Hughes Medical Institute Research Fellowship.
He completed his residency in neurology at the University of California, San Francisco where he served as the chief resident, and fellowships in Vascular Neurology and Interventional Neuroradiology at the University of California, Los Angeles.
Dr. Sheth is currently an assistant professor of neurology at McGovern Medical School at The University of Texas Health Science Center at Houston (UTHealth).
Research Interest
Endovascular stroke therapy, perfusion angiography, neuroimaging, biomarkers of cerebral injury, endovascular device development, traumatic brain injury
Endovascular treatments for acute ischemic stroke have revolutionized our ability to restore patients suffering from stroke back to health. However, many questions still remain. Dr. Sheth's research interests include improving our understanding of who benefits from endovascular treatments for ischemic stroke, and how to best treat these patients. His work uses both clinical research techniques as well as advanced neuroimaging analyses to address this question. In addition, Dr. Sheth leads an effort to identify blood-based biomarkers that could improve our ability to diagnose stroke at its very onset.
Dr. Sheth has co-authored many studies, which have been published in Cell, Nature Biotechnology, PlosONE, and the Journal of NeuroInterventional Surgery. For his research work he has been awarded grants from the American Heart Association (AHA), Society for NeuroInterventional Surgery Foundation, and National Institutes of Health. He has also received numerous honors and awards including the AHA International Stroke Conference Junior Investigator Travel Award, American Academy of Neurology (AAN) Resident Scholarship Award, American Society
EARCH of Neuroradiology Trainee Award, and the Henry Asbury Christian Award for Excellence in Independent Research from Harvard University.