Elizabeth and Elliott Maddox love watching cartoons, eating snacks, and playtime, just like most other young children. However, they each have one extra step in the morning — putting in their hearing aids.
Discovering hearing loss
Born two and a half years apart, Elliott and his younger sister, Elizabeth, have different stories when it comes to their respective diagnoses.
Before the Maddox family could leave the hospital after Elliott's birth, a routine hearing screening was required.
"I didn't actually know that your baby had to have a hearing screening before leaving the hospital, so the technician coming into the room to test Elliott was a surprise," shared their mother, Michelle. "It was an even bigger surprise when she told us that he didn't pass in either ear."
After several failed follow-up tests, the hospital staff explained that it could be a result of being born via cesarean section (C-section). Babies born through C-section can retain fluid in their middle ear for a couple of days following birth. However, after failing yet another screening a few weeks after leaving the hospital, Elliott was referred to UT Physicians audiologists for additional testing.
"This time period was a real roller coaster of emotions for me. I remember being sad, most of all, and feeling helpless," confessed Michelle.
Additional testing was completed, but a conclusive diagnosis of hearing loss was not determined at that time.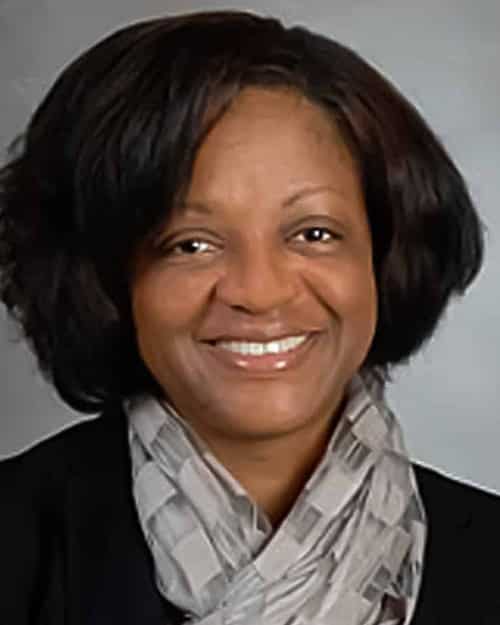 During his 18-month checkup with Kenya Parks, MD, pediatrician and medical director of the UT Physicians Multispecialty – The Heights clinic, and associate professor of pediatrics at McGovern Medical School at UTHealth Houston, it was determined he was not meeting certain milestones — specifically in speech and language development.
At 2 years old, it was obvious Elliott was not progressing as Michelle and Parks had hoped.
"I remember standing behind him and calling his name and he wouldn't turn around, but I thought maybe he was just ignoring me. He always loved music and would dance along to what we know was the beat. There are lots of moments that, in hindsight, I can see were red flags," said Michelle.
Elliott would then continue to fail a multitude of different hearing screenings until he was referred for an auditory brainstem response (ABR) test. An ABR test assesses the functionality of a patient's auditory neural pathway and can be used to estimate hearing levels in small children and infants. It was during this appointment that the Maddox family would meet an important member of their care team — Audrey N. Taylor, AuD, audiologist with UT Physicians.
During these tumultuous months, Elizabeth was born. Her hearing loss discovery was much simpler compared to her brother's lengthy case.
Also born via C-section, Elizabeth was automatically referred for an ABR test after failing her hospital screening due to her premature birth.
Based on the results of multiple ABR tests performed by Taylor and a colleague, Elliott and Elizabeth had the same diagnosis — bilateral sensorineural hearing loss.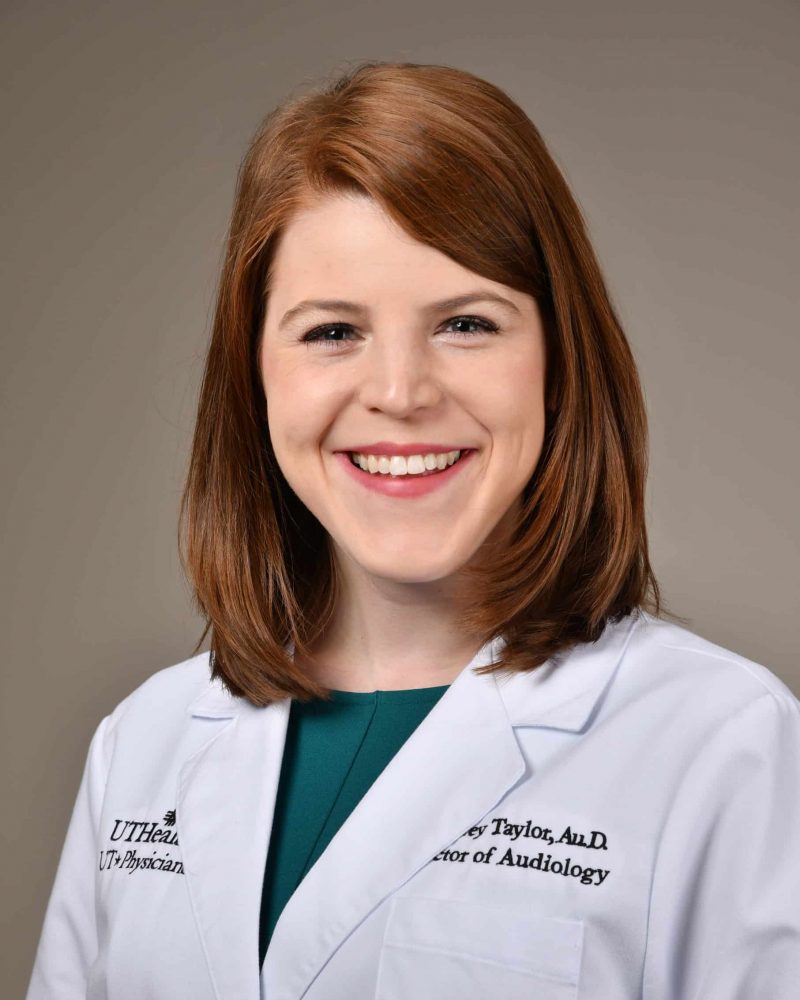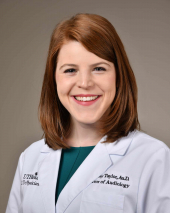 "Hearing loss can sometimes run in the family," explained Taylor. "Because of their condition, they are missing important speech sounds, especially consonants, which can cause their own speech to become unclear when they develop language."
Next steps
As their hearing loss is permanent, the best course of action for Elliott and Elizabeth was hearing aids. At 3 months old, Elizabeth received hers right before her big brother.
"The purpose of hearing technologies, such as hearing aids or cochlear implants, is to get sound and language information through the doorway of the ears to the brain. Research shows that untreated hearing loss in children can affect communication, speech and language development, reading levels, academic performance, and social development," said Taylor.
A big challenge was getting Elizabeth to keep the hearing aids in her ears.
"We used a tether in case they came out, which would keep them attached to her clothes. This was great for us to be able to find them, but she could also find them and would not keep them out of her mouth. I use to say they were the most expensive chew toys ever created," joked Michelle.
Elliott received his hearing aids at almost 3 years old, just two weeks after his little sister. Watching Elizabeth go through the process helped to ease the toddler's worry. It helped that his aids would be in his favorite color — red.
"Elliott was a bit overwhelmed with hearing all of the new sounds when his were put in, but he quickly became attached to them," recalled mom.
Elizabeth and Elliott today
It's been nearly three years since the siblings were first fitted with hearing aids. Thanks to their amazing support system and help from Taylor, they have been thriving. In fact, they understand that hearing aids help them hear and don't like to take them off their ears.
"Dr. Taylor was a huge support with information and knowledge," shared Michelle. "We're so appreciative of her and the UT Physicians team. They are always around to answer any questions we might have or support us if we are having a technical issue with a hearing aid."
Currently, the siblings meet with Taylor every four to six months to monitor their hearing and adjust their hearing aids as needed. During these regular visits, the doctor and the family have created a special bond.
"I have truly enjoyed my relationship with Elizabeth, Elliott, and their family. I have three years of their adorable Christmas cards on my desk, going back to 2019. It is a daily reminder of why I went into audiology, which is to make my patients and their families' lives as meaningful as possible," shared Taylor.
To other parents with children experiencing hearing loss, Michelle's best advice is to educate and advocate.
"Educate yourself on their situation and advocate for your kids. You know what is best for them," she said. "Your kids, or kid, are perfect and are going to go on to do great things." Signs of hearing loss in children can present as not responding to loud sounds or, delayed or unclear speech. To schedule an appointment with one of our audiologists or pediatric otorhinolaryngologists, call 888-488-3627, or visit this page.