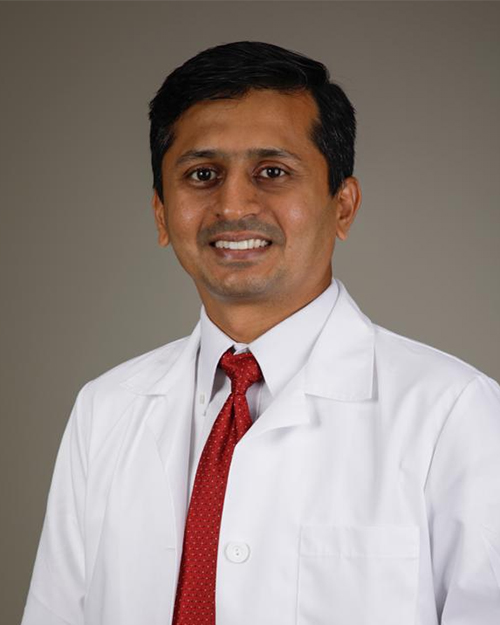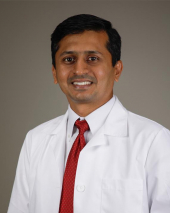 Tyrone Dallas can now lay his head on a pillow and have a good night's rest — something so ordinary, but he doesn't take it for granted. Before meeting Pritesh Mutha, MD, gastroenterologist with UT Physicians, Dallas couldn't do a lot of everyday things due to his diabetic gastroparesis.
"I couldn't eat after 3 or 4 p.m., and I had to sleep sitting up on the couch every night," he said. "Sometimes I had to eat, because I was so hungry, but that meant I wouldn't be able to lie down until the next day. Then, I'd have to repeat that cycle all over again."
Diabetic gastroparesis occurs when there is nerve damage to the stomach due to uncontrolled blood sugar. Dallas' diagnosis caused him to experience severe symptoms, such as gastroesophageal reflux, nausea, vomiting, pain, and fatigue.
After reviewing his case, Mutha felt confident that undergoing a gastric peroral endoscopic myotomy (G-POEM) procedure could solve most, if not all, of Dallas' symptoms. A G-POEM is a minimally invasive surgery that loosens the ring of muscle controlling the flow of stomach contents to the small intestine, allowing for food to pass through more freely.
"In Dallas' situation, food wasn't emptying out of his stomach properly. Since the undigested food was just sitting in his stomach, his body could not absorb the nutrients and calories needed to thrive," said Mutha, associate professor of gastroenterology with McGovern Medical School at UTHealth Houston.
Dallas, a double lung transplant recipient, trusted Mutha and his ability to help, so he agreed to the procedure.
"Sometimes when you meet a person, you just know. Your senses will tell you," Dallas explained. "I knew Dr. Mutha was a good guy who could help me."
Lifestyle changes after procedure make a difference
Although the procedure wasn't invasive, Dallas was kept overnight for monitoring. The effects were immediate, he said. The pain he had become accustomed to every day was gone.
For the initial 10 days, Dallas maintained a strict soft foods diet to allow his body to heal and adjust. After that, he began a complete diet and lifestyle change recommended by Mutha.
"I started to follow a vegetarian diet. I wasn't sure if I would enjoy it at first, but now I don't mind because of how good I feel," Dallas said.
In addition to filling up on nutritious fruits and vegetables, he walks for at least 10 minutes after eating.
"A whole-foods plant-based diet is very beneficial for people with chronic diseases," Mutha said. "Fruits and vegetables are high in fiber, which is great for our gut health."
Mutha explains that this diet optimizes people's weight. For those who are underweight, they gain weight. Those who are overweight, lose weight. Dallas was concerned he would lose weight on this diet, but he gained 10 pounds of healthy weight.
Today, Dallas reports a 100% recovery, thanks to his doctor's efforts.
"I can keep up with my boys now and go places with my wife," he said. "I wouldn't be here without Dr. Mutha. He truly is a blessing."
For those living with gastroparesis, Mutha recommends the following tips for a healthier lifestyle:
Eat your veggies (blend or cook before consuming) and fruits.
Chew your food thoroughly to make it a paste in your mouth prior to swallowing.
Maintain a four-hour window between meals.
Don't eat or drink after 6 p.m.
Walk for at least 15 minutes after meals.
Don't eat meat, fish, eggs, dairy, or processed foods.
Take B12 supplements and ensure you are not deficient in vitamin D.
Before making any substantial diet changes, speak with your primary care provider.