Cayman Westerkamp's health journey began as soon as he was welcomed into the world. Diagnosed with an array of medical issues, including hydrocephalus and spina bifida involving the cervical and thoracic spine, he lived in a medical home in Hunan, China for the first seven years of his life.
In 2017, Cayman found his forever family across the world in Texas with the Westerkamps.
"We originally hosted Cayman for a few weeks in 2016, and immediately fell in love with him. After he left to return to China, we knew we wanted to adopt him. He was part of our family," shared his mother, Courtney.
For the most part, Cayman's health remained stable for years. It wasn't until July 2021 that a few worrisome symptoms arose.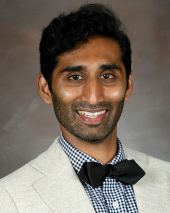 "Cayman began having trouble breathing and was experiencing pain in his spine," she recalled.
Knowing his history with spina bifida and associated risk of developing scoliosis, his parents immediately booked him an appointment with an expert they already knew, loved, and trusted — Surya N. Mundluru, MD, pediatric orthopedic surgeon with UT Physicians.
Having previously cared for Cayman's brother, Mundluru and the Westerkamp family were bonded.
"Dr. Mundluru is so patient-focused and really takes the time to do all the research and give you the best recommendation for a treatment plan," she said. "That's what makes me trust him. I have so much faith and confidence in him."
Cayman's spina bifida is considered rare, involving both his lower lumbar spine and his upper cervical spinal area. As a result of his underlying spina bifida, he developed a progressive scoliosis deformity causing his lungs to have less space to function. Over time, the extreme level of abnormality and deformity caused reduced daily function and breathing complications.
"Scoliosis surgery is not just cosmetic. If not repaired, the condition can affect the chest wall and a patient's ability to breathe," explained Mundluru, assistant professor in the Department of Orthopedic Surgery at McGovern Medical School at UTHealth Houston.
After performing the necessary scans and tests before surgery, a major complication was discovered — a tethered spinal cord. In most individuals, the spinal cord floats freely inside the spinal canal. Cayman's was attached, which meant two surgeries would be necessary with several UT Physicians experts.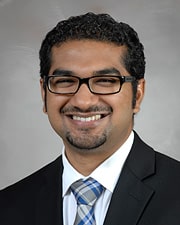 For the first procedure, two additional surgeons joined Cayman's health care team. Brandon Miller, MD, pediatric neurosurgeon with UT Physicians and assistant professor at McGovern Medical School, and Manish N. Shah, MD, pediatric neurosurgeon with UT Physicians and associate professor at McGovern Medical School, were able to release the problematic spinal cord during a six-hour surgery.
Following a six-week healing period, it was time for the final spinal fusion procedure with Mundluru and Shah-Nawaz Dodwad, MD, orthopedic spine surgeon with UT Physicians and assistant professor in the Department of Orthopedic Surgery at McGovern Medical School.
"We used a spinal navigation system, which is state of the art, to perform Cayman's fusion surgery to repair his spine. It took approximately 12 hours, and he did amazing," shared Mundluru.
While recovering from back-to-back extensive surgeries, Cayman participated in physical therapy for weeks.
"He's so tenacious and was determined to get better," said Courtney. "I remember him asking how many laps he would need to walk each day before he could be released."
Eventually, his hard work paid off and things that were impossible before became a reality — like the simple act of riding a bike.
"It's one of those things he could never do before because he didn't have the balance, but now he loves it," shared his mom. "He wants to be able to do so much, so we'll just see how things go. That's why these procedures were so important; it gave him his quality of life back."
Mundluru plans on following Cayman's case on a yearly basis for checkups, although he does believe his long-term prognosis is positive, in part because of his support system at home.
"The Westerkamps are the most wonderful people and are so positive," said the surgeon. "I'm proud that the comprehensive care we were able to provide at UT Physicians made such a positive impact on their lives."
Courtney and her husband remain forever grateful for the care Cayman received, which they believe exceeded the usual expectations of a doctor/patient relationship.
"When we needed to speak with Dr. Mundluru, he was always there. Everything that he does for his patients and their families is above and beyond what you would expect," she said.