Mickey Wright of Katy, Texas, is just a regular 7-year-old boy who earns good grades, plays video games, and wrestles in Brazilian jiu-jitsu classes. His life, however, would not be as full if it were not for a life-changing surgery and therapy program.
Mickey was born with cerebral palsy. Though his doctors in Bryan, Texas, never diagnosed his condition, his mother knew something was wrong.
"He wasn't moving. He wasn't reaching his milestones," said mother Sherrie Fernandez-Wright. "The doctors just wanted to 'wait and see.' I don't wait and see. I observe and act."
The cause and next steps
When Mickey was just 15 months old, his mother took him to Houston for an evaluation.
Cerebral palsy (CP) is an umbrella term for a disorder that appears in infancy or early childhood and permanently affects body movement and muscle coordination. It is caused by damage or abnormalities inside the developing brain, which is often the result of fetal stroke. It disrupts the brain's ability to control movement and maintain posture and balance.
Mickey had the spastic type of CP. Spasticity is a condition that causes extremely stiff muscles that make movement difficult and awkward.
"Mickey couldn't use his body. He was almost paralyzed," Sherrie said. "I was so glad doctors were able to diagnose him and start helping him."
Physicians gave Mickey botulinum toxin (i.e., Botox) injections in his legs as well as baclofen muscle relaxers to calm the spasticity throughout his body. He then began virtual and in-person therapy sessions to develop more strength and coordination.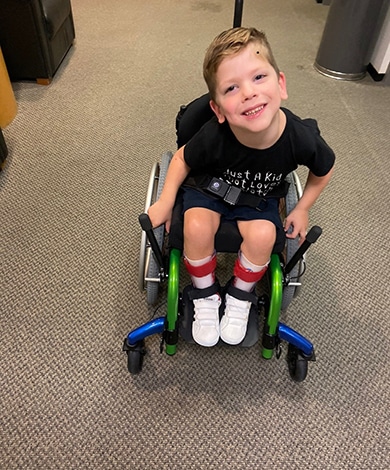 The goal was to prepare Mickey for selective dorsal rhizotomy (SDR) surgery when he was old enough and strong enough.
SDR is a minimally invasive procedure to treat spasticity. A neurosurgeon performs a small incision in the spine to test and identify the most spastic nerves. The surgeon proceeds to cut the nerves to relieve the patient of excessive muscle tightness.
"SDR is usually performed when the child is at least 4. They have to be mature enough to understand what they have to go through. After the surgery, they're required to go through a whole month of physical therapy," Sherrie said. "Mickey was still young and had to get stronger to become a candidate."
The time for SDR
Over the next four years, Mickey worked hard in therapies to become a candidate for SDR.
"We traveled back and forth from Bryan to Houston that whole time for his in-person sessions," Sherrie said. "When they said he was ready to see Dr. Shah for SDR, we got so emotional. It was one of the happiest days of our life. It was a huge deal to become a candidate for such an amazing surgery."
"I didn't even get a second opinion," Sherrie added. "I had already done my research on the procedure and even watched a video that Dr. Shah actually did on the surgery. We were ready."
In August 2020, Mickey and his mother virtually met Manish N. Shah, MD, associate professor of pediatric neurosurgery and William J. Devane Distinguished Professor at McGovern Medical School at UTHealth Houston.
"It was during COVID, and we had a video call. He did a virtual assessment and confirmed Mickey was a candidate for SDR surgery," Sherrie said. "Dr. Shah said he would schedule the surgery next month."
"We were quick to operate on Mickey because the surgery should ideally be done by the age of 4," Shah said. "The child needs to be out of the toddler years to be able to cooperate, but young enough so they receive the full benefit of the operation and program."
Before the surgery, Mickey had to undergo a full assessment from the team of specialty surgeons and therapists at the Texas Comprehensive Spasticity Center at UTHealth Houston.
Mickey's family then decided to relocate to the Houston suburb of Katy to be near his medical team.
On Aug. 10, 2020, Mickey underwent SDR surgery, and it changed his life from the moment he woke up.
The change and progress
"After the surgery, he was able to move his body! He had just woken up from anesthesia and said, 'Mom, I can move my legs now,'" Sherrie said.
His small movements were a big cause for celebration.
"He was so tight from the waist all the way down to his ankles, and he dealt with severe pain. There were muscles that he was never able to use because they were so tight," Sherrie said. "After the surgery, he was finally able to sit up, and he was able to get himself from point A to point B with a device. The day after surgery, he even played his first video game."
After a short recovery, Mickey went straight to the required rehabilitation and physical therapy program. He lived at the hospital for 30 days to build the function in his limbs.
Micky was soon able to move from a pediatric wheelchair to a pediatric walker. He also had enough movement and coordination to better utilize his arms and hands.
"The surgery and program gave him so much more independence and the ability to keep up with his peers," Sherrie said.
Just before the surgery and therapy, Mickey was in a pediatric wheelchair with limited movement. Today, the first-grader uses crutches at school, and he completely writes his own schoolwork. He also plays advanced video games and participates in martial arts.
His mother is most proud of his academic achievements.
"He is 100% in general education classes, and he is a straight-A student," Sherrie said. "His school felt he needed to be in special classes, but I wouldn't allow that. Ever since he was little, his doctors said he was very smart, and he's proving it."
The key to success
Many children with spastic CP can also continue on a path toward greater independence, but the key to success is early diagnosis.
"If a child is not meeting all their milestones by the age of 6 months, it could be an indication," Shah said. "The sooner we know about it, the better. The child will also receive more benefits from SDR and rehabilitation program."
Shah recalls Mickey's case very well.
"Mickey is an absolute star," Shah said. "We continue to have a very high rate of success. Our multidisciplinary team sees the patient at once and can offer different interventions. It's a one-stop shop for the patient."
Sherrie highly recommends the SDR surgery and rehabilitation program for any patient who is a candidate.
"I love to tell people about SDR. It's not a cure-all, fix-all. It still takes work on your part afterward. I tell people, 'It's not a marathon. It's a double Iron Man," Sherrie said. "It's still worth it. You have to think about the quality of life of your child, especially as they go into adulthood. SDR is a way to help your child function with a more appropriate gait."
Mickey also recommends the program. "There's nothing to be afraid of," he said.
Sherrie also encourages parents to act quickly if they suspect something is wrong with their child's development.
"If your gut is telling you that your kid needs additional treatment and your doctor isn't providing solutions, ask for a referral," Sherrie said. "The sooner the child can be diagnosed and treated, the better off they'll be. Don't wait and see."