UT Physicians Orthopedics at Memorial Hermann Orthopedic and Spine Hospital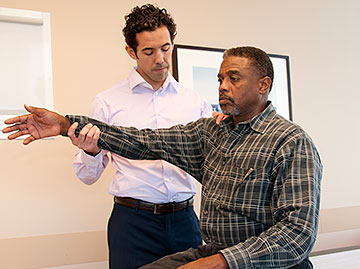 ---
Memorial Hermann Orthopedic and Spine Hospital
Physicians & Health Care Team
About
Construction Notice
Due to road closures in the area, the Westpark northbound and southbound exits are closed. Below are alternate routes to help your commute. It is recommended to add an additional 15-30 minutes to your normal travel time.
Traveling northbound on I-610
Take Exit 6 toward Bellaire Blvd./Bissonnet St./Fournace Pl.
Stay on the feeder and make a u-turn near Houston Garden Centers.
The UT Physicians building is on the right.
Traveling southbound on I-610
Take Exit 8B toward Hidalgo St./Richmond Ave.
Continue on Hildalgo St.
Turn left on Post Oak Blvd.
Continue on the feeder past Westpark Dr.
The UT Physicians building is on the right.
Parking Directions for Physical Medicine & Rehabilitation Patients
For office appointments, the clinic is located at 5420 West Loop South, Suite 1100 (first floor), at the Memorial Hermann Orthopedic and Spine Hospital Professional Building. For procedure appointments, please proceed to the main hospital (Memorial Hermann Orthopedic and Spine Hospital), at 5410 West Loop South. Please look for the surgery waiting area on the first floor to be checked in for your procedure. There is complementary valet and free parking in the parking structures at both entrances.
A collaborative approach to scoliosis

June marks Scoliosis Awareness Month, a perfect time to highlight our team of experts who specialize in spinal conditions.

For the love of dance

After receiving a startling diagnosis, Dani was determined to do whatever was necessary to return to her passion – dancing.

Scoliosis: Demystifying the condition

Dr. Timothy C. Borden, pediatric orthopedic and scoliosis surgeon, discusses common misconceptions about scoliosis, including what causes the condition.