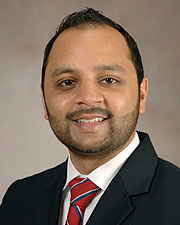 ---
Amit K. Agarwal, MD
Specialty:
Board Certification:

American Board of Surgery
Surgery American Board of Colon and Rectal Surgery
Colon and Rectal Surgery
Education/Training
Medical School
St. George's University School Of Medicine, 2010
Residency
University of Texas Health Science Center at Houston, 2015
Fellowship
University of Texas Health Science Center at Houston, 2016
---
Amit K. Agarwal, M.D., is a born and raised Texan who enjoys relating to his patients.
"I enjoy building relationships with patients," said Dr. Agarwal, assistant professor at McGovern Medical School at UTHealth. "I was interested in colon and rectal surgery because I was able to build a foundation with my patients through the entirety of their disease process, from diagnosis to recovery."
Dr. Agarwal uses an evidence-based medicine approach prior to considering surgery. "I take pride in engaging in the latest research in my field, to enhance my patient care."
His clinical interests include minimally invasive and robotic surgery of the colon and rectum, cancer screening, benign and malignant conditions of the colon, rectum and anus as well as pelvic floor disorders, inflammatory bowel disease, and treatment of incontinence.
He is also involved in surgical education and clinical research.
Dr. Agarwal's patients include those with conditions such as Crohn's disease, ulcerative colitis, hemorrhoids, diverticulitis, rectal cancer, color cancer and more.
Dr. Agarwal is a member of the American College of Surgeons, American Society of Colon and Rectal Surgeons, Texas Society of Colon and Rectal Surgeons, the Texas Medical Association and the Harris County Medical Society.
He is married to Nima-Patel Agarwal, M.D., an obstetrician and gynecologist at McGovern Medical School.
In his free time, he enjoys going to sporting events, running, skiing, deep sea fishing, and spending time with friends and family.