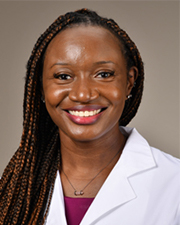 ---
Angela P. H. Burgess, MD

Specialty:
Education/Training
Medical School
New York Medical College, 2013
Residency
Richmond University Medical Center, 2017
Fellowship
Baylor College of Medicine, 2020
---
Angela PH Burgess, MD, is an assistant professor in the Department of Maternal-Fetal Medicine at The University of Texas Health Science Center at Houston. Her work focuses on maternal mortality, maternal complications, and comorbidities, including, but not limited to, obesity, diabetes, chronic hypertension, and bariatric surgery. Dr. Burgess has a personal interest in nutrition in clinical practice. She also has a passion for eliminating health disparities in healthcare. She enjoys working with medical students and residents.
Her other roles include serving as the medical director at Memorial Hermann Southwest Hospital and serving as the vice chair of Diversity and Inclusion for the Department of Obstetrics, Gynecology and Reproductive Sciences at UTHealth.
Dr. Burgess is a first-generation immigrant, born in New York of Guyanese heritage. She spent some of her formative years traveling and living abroad in Nigeria, Guyana, England, and other places.
After obtaining her undergraduate in Developmental Biology and African American Studies at The University of Rochester, she received her medical degree and a doctor of pharmacology at New York Medical College. Dr. Burgess spent years doing valuable research. This research is secondary to a passion to make a huge impact in healthcare. Dr. Burgess hopes to create a better environment for current and future women in healthcare. Her passion for maternal health and pregnancy was realized during her residency at Mount Sinai- Richmond Medical Center. She then obtained a fellowship at Texas Children's Hospital – Baylor College of Medicine in maternal-fetal medicine.
Dr. Burgess is a member of both The Junior League of Houston and the Association of Nigerian Physicians in the Americas. She enjoys volunteering within the community, including the Houston Food Bank. She spends time cooking vegan/vegetarian meals, running, and mentoring projects in her personal life.
Selected Publications:
Burgess APH, Seferovic M, Shik Park C, et al. 489: Characterization of fetal neuroprogenitor cells derived from cerebrospinal fluid at time of myelomeningocele repair. Am J Obstet Gynecol. 2018;218(1):S293–S294. doi:10.1016/j.ajog.2017.11.015
Mack LM, Mastrobattista JM, Gandhi R, Castro EC, Burgess APH, Lee W. Characterization of placental microvasculature using superb microvascular imaging. J Ultrasound Med. 2019;38(9):2485– doi:10.1002/jum.14919
Burgess APH, Clark SL. Opportunities for hospitals, hospital systems and leadership to improve VTE prophylaxis. Semin Perinatol. 2019;43(4):218– doi:10.1053/j.semperi.2019.03.007
Seferovic Maxim, Burgess APH, Aagaard KM. 1021: Methylation changes of placental DNA associate with gestational age. Am J Obstet Gynecol. 2020;222(1):S634–S634. doi:10.1016/j.ajog.2019.11.1036
Burgess APH, Clark S, Dongarwar D, Salihu H. 5: Hospital maternal mortality rates are falling, overall maternal mortality still rises: Implications for forward movement. Am J Obstet Gynecol. 2020;222(1): S5–S5. doi:10.1016/j.ajog.2019.11.021
Burgess APH, Dongarwar D, Spigel Z, et al. Pregnancy-related mortality in the United States, 2003-2016: age, race, and place of death. Am J Obstet Gynecol. 2020;222(5):489.e1-489.e8. doi:10.1016/j.ajog.2020.02.020
Burgess, APH, Mckenzie-Sampson S, Kuppermann M, Chambers BD. 774 Development of an obstetric discrimination scale for examining impact of racism on pregnancy outcomes. Am J Obstet Gynecol. 2021;224(2): S483–S483. doi:10.1016/j.ajog.2020.12.797