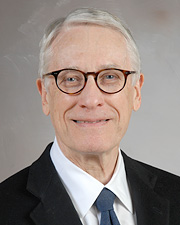 ---
Kenneth L. Gould, MD

Specialty:
Clinical Interests:

Coronary heart and artery disease, diagnosis and management of heart symptoms, heart disease in women, quantitative blood flow measurements, coronary angiogram, stents, bypass surgery
Education/Training
Medical School
Case Western Reserve University, 1964
Residency
University of Washington School of Medicine, 1967
Fellowship
University of Washington School of Medicine, 1971
---
For new patient appointments with Dr. Gould, or to schedule a PET scan, please call 713-500-6611.
Lance Gould, MD, holds the Distinguished University Chair in Cardiovascular Medicine at The University of Texas Health Science Center at Houston (UTHealth) based on 48 years of experience in clinical cardiac practice and research. He pioneered all the current concepts and imaging tests, quantitative angiograms and coronary pressure measurements for defining severity of coronary artery disease, now used world wide electively for coronary artery disease.
Accordingly, he leads the world on imaging coronary blood flow using technology he pioneered called positron emission tomography (PET) as the basis for predicting high future risk of heart attack or death in individuals, and whether stents or bypass surgery may reduce this risk; or whether intense healthy living and medical treatment may stop or reverse coronary artery disease.
His leading technology developments and 48 years of clinical experience bring unique clinical insight, judgment and professional care for objective, optimal and personalized treatment opinions for individual patients, especially for those with angiogram, stents or bypass surgery recommendations including the world leading definitive imaging and experience that he provides.
Dr. Gould is the medical and executive director of the Weatherhead PET Imaging Center for Preventing and Reversing Atherosclerosis at UTHealth, serving patients and physicians in the United States and around the world.
He won the International George von Hevesy Prize for Research in 1978, the AHA George E. Brown Memorial Lecturer in 1990, the American College of Cardiology Simon Dack Award for Outstanding Scholarship in 2011, the Hal Anger Memorial Honorary Plenary Lecturer of the Society of Nuclear Medicine in 2017 and the American College of Cardiology Distinguished Scientist Award for Translational Research in 2018.
Click here to learn more about the Weather PET Imaging Center, or see Dr. Gould's summarized original conceptual papers.
Dr. Gould has published the first and only textbook on quantifying coronary artery narrowing, coronary blood flow and cardiac PET imaging, entitled Coronary Artery Stenosis and Reversing Atherosclerosis, 2nd edition, Arnold Publishing, London, 1998. He has also published Heal Your Heart, How to Prevent or Reverse Heart Disease, the first popular book to distill an extensive scientific literature into simple graphics and text for general non-medical readers. Dr. Gould has received 26 years of continuous competitive research grant funding from the National Institutes of Health, the American Heart Association and/or the Veterans Administration Career Development program. He currently holds the Martin Bucksbaum Distinguished University Chair and is Professor and Executive Director of the endowed Weatherhead P.E.T. Center for Preventing and Reversing Atherosclerosis.