Internists specialize in diagnosing and treating adults. They are also referred to as general practitioners. As part of their patient-centered approach, they coordinate care where needed, including in clinical and hospital settings.
Board certified internal medicine physicians are experts in treating patients with common and rare diseases. They also promote healthy lifestyles and wellness.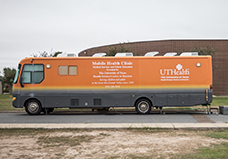 Along with providing services at UT Physicians clinics, the Department of Internal Medicine at McGovern Medical School at UTHealth operates a mobile clinic service in the lower Rio Grande Valley along the Texas-Mexico border. The mission is to offer no-cost medical consultations, basic health services, and patient education to medically underserved people. Any patient identified as having a chronic disease is treated and provided with assistance for long-term management.