Memorial Hermann Cancer Center – Texas Medical Center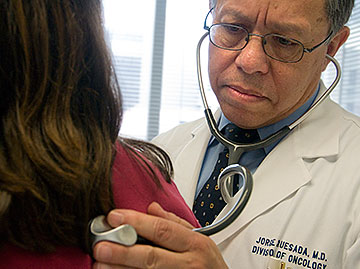 ---
Memorial Hermann Medical Plaza – Texas Medical Center
Physicians & Health Care Team
About
Please note: Memorial Hermann Cancer Center – Texas Medical Center is not run or operated by UT Physicians.
Our highly skilled team of physicians with the McGovern Medical School at UTHealth improve survival rates and quality of life for people with cancer. Through diagnosis based on extensive knowledge and treatment delivered using advanced technology, we provide exceptional, effective care.
The state-of-the-art cancer center introduces cutting-edge clinical capabilities, physician expertise and services within a fully integrated space that promotes holistic care and healing. The facility is designed to provide a highly-personalized and comforting environment to support the needs of patients throughout the continuum of care with private treatment suites and counselor guidance during every step of the process.
Highlights of the Memorial Hermann Cancer Center-Texas Medical Center include:
Surgical and medical oncology
Nurse practitioners
Oncology nurse navigator
Symptom management
Genetic counseling and testing
Radiation therapy services
Gamma Knife® radiosurgery
Chemotherapy services with 20 outpatient infusion suites
Dedicated research laboratory
Dedicated pharmacy
Physical, emotional and spiritual support
Dietitian, cancer educator, chaplain, social worker and financial counselor
Clinical trials
16 clinic rooms for privacy and comfort
Nurse practitioners
The Memorial Hermann Medical Plaza Building is located at the North end of the Texas Medical Center. The parking garage is easy to get to from any direction with entrances from both Fannin and Main.
Visitor parking is available 24 hours. Valet services are available from 7:00 am to 6:00 pm Monday through Friday except holidays.