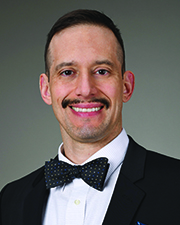 ---
R. Tomás DaVee, MD

Specialty:
Clinical Interests:

Esophageal acid reflux and swallowing disorders, jaundice, bile duct blockages, pancreas cancer and neuroendocrine tumors, pancreas cyst and pancreas mass biopsy, complex ERCP stone removal, fiducial placement for SBRT / radiation therapy, and gastric varices embolization
Board Certification:

American Board of Internal Medicine

Education/Training
Medical School
University of Chicago Pritzker School of Medicine, 2009
Residency
Stanford School of Medicine, 2013
Fellowship
University of Texas M.D. Anderson Cancer Center, 2017
Fellowship
Vanderbilt University School of Medicine, 2016
---
R. Tomás DaVee, MD, is an interventional gastroenterologist, specializing in diagnosis and treatment of complex digestive health issues.
Dr. DaVee is a skilled physician and interventionalist. He clearly explains procedure details and techniques. He works with a team of experts, including nutrition specialists, radiologists and surgeons to deliver the most technologically advanced care possible. He also has pioneered new treatments for digestive disorders and cancers, and his work has been published in top academic journals.
Dr. DaVee is regarded as an expert in difficult/failed ERCP (endoscopic retrograde cholangiopancreatography) for blockages of the bile duct or pancreas from tumors or stones. Furthermore, he is highly regarded for ability to obtain diagnostic tissue sampling for complex or difficult to reach tumors or masses.
Dr. DaVee's modus operandi is to provide precise medical care that is customized to each person's specific needs. He works with a close-knit team to ensure the safety of every procedure and highest success rates possible.
Following graduation from The University of Chicago – Pritzker School of Medicine, Dr. DaVee has been in practice over ten years. He has actively sought out diverse experiences and environments in an effort to broaden his mindset and training. Dr. DaVee's postgraduate training began at Stanford University for his internship and residency. This was followed by clinical work and specialized research at the University of Minnesota and Mayo Clinic. After simultaneous completion of fellowship and a master's degree at Vanderbilt University, he was awarded an advanced fellowship at The University of Texas MD Anderson Cancer Center. Dr. DaVee successfully transitioned to the teaching faculty at the McGovern Medical School at The University of Health Science Center at Houston (UTHealth), and currently trains medical students and physicians in gastrointestinal diagnosis and treatment.
As a resident of Houston, Dr. DaVee enjoys spending time with his family, and stays in shape by playing baseball, soccer, running, and mutton busting.
Awards / Recognitions / Appointments / Professional Memberships
American Society for Gastrointestinal Endoscopy (ASGE), member
2020 Super Doctors – Texas Rising Star