TJ Giden's journey started with a bleak diagnosis of esophageal cancer. At age 75 and with several underlying conditions, Giden was told he most likely would not survive.
"When I heard the word 'cancer,' I figured it was all over," he shared. "I thanked God for letting me live this long."
Normally, a patient presenting with earlier stages of esophageal cancer would undergo a traditional surgery where the esophagus and surrounding lymph nodes are removed. In Giden's case, he was too high risk for the surgery. Thus, chemotherapy and radiation were recommended by a board of experts during a cancer conference as a compromise to slow the spread of cancer down. However, it wasn't a road the patient was willing to go down.
"I just buried one of my friends after undergoing chemotherapy and radiation. It wasn't something I ever wanted to do for myself," explained Giden.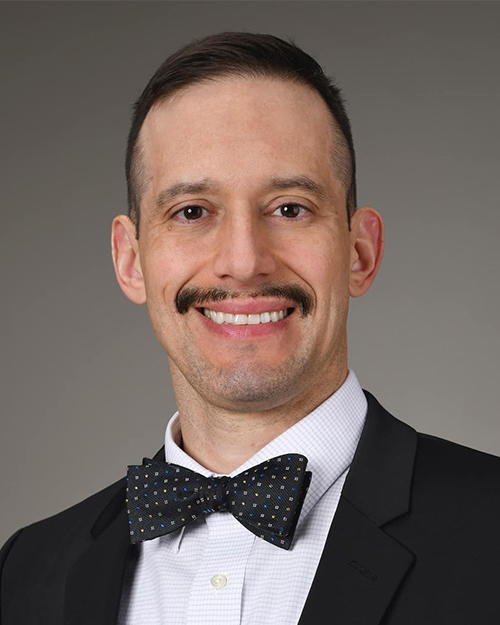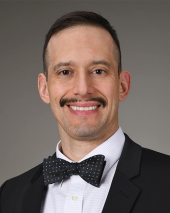 Thankfully, there was one other option — a groundbreaking procedure developed in Japan and only performed at select health care institutions across the U.S. by trained professionals, such as R. Tomás DaVee, MD, interventional gastroenterologist with UT Physicians.
"It's called endoscopic submucosal dissection, or ESD for short. It's a very difficult technique to learn, and I've been continuously training for the last six years," explained DaVee, assistant professor in the Department of Internal Medicine at McGovern Medical School at UTHealth Houston. "This surgery has been shown to have a low recurrence rate and is effective at removing cancers and lesions in one piece."
Although DaVee had performed this particular technique over 50 times, including observing cases, training in the lab, and being proctored by another expert, this would be the first time for cancer removal. His prior procedures focused on eliminating large, high-risk polyps.
After discussing this new option for cancer removal with a committee of experts, DaVee presented the option to Giden. He fully understood the novelty of the surgery and was completely on board.
"Dr. DaVee explained to my wife and me all about this new procedure and asked if it was something we'd be comfortable trying," Giden said. "When he sat down with us, he was so pleasant, and I just knew that this was something we should do, especially because I wouldn't have to do any chemo or radiation."
DaVee led the surgery with the assistance of Todd D. Wilson, MD, minimally invasive surgeon with UT Physicians and associate professor in the Department of Surgery at McGovern Medical School. Following a few hours of meticulous work, Giden's cancer was removed completely, and the wound in his esophagus was closed.
"There was no major bleeding or infection. The procedure went so smoothly we were all sort of amazed at what we had just accomplished," said DaVee.
Giden recalls his recovery as quite simple — a few days in the hospital to rest before being released home. A follow-up appointment two weeks later confirmed the best-case scenario news — the cancer was completely removed. The 75-year-old was officially in remission.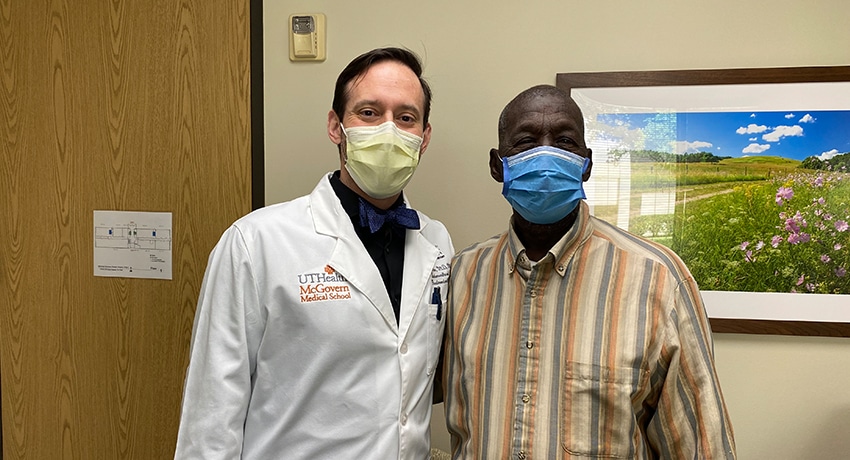 DaVee feels blessed to have the skill, career path, and support system to save Giden's life.
"I'm really grateful for my co-surgeon Dr. Wilson, our interventional GI chiefs Drs. Thosani and Guha, the Memorial Hermann Greater Heights Hospital leadership, and our Texans anesthesia partners," DaVee shared. "It takes an incredibly strong team to do something amazing like this."
Today, Giden feels completely recovered and is back to his normal life — something he credits DaVee for every single day.
"I believe that if you have something wrong, you should find yourself a good doctor, someone like Dr. DaVee. I trusted him, and he came through with flying colors," he said.