For everyone, the news of COVID-19 seemed unreal and scary. For Cheryl Yetz, it was very real and a threat to her health. With diagnosed lupus and diabetes, Yetz knew just how high-risk she was for severe illness if she contracted the virus.
Stay home. Isolate yourself. Avoid others who appear sick.
Those were all good rules to follow, yet Yetz could not because she was receiving weekly treatments at UT Physicians Urogynecology Center – Sugar Land for her incontinence issues.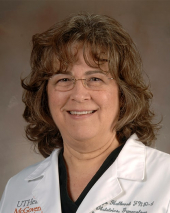 Once a week, for 12 continuous weeks, she had a standing appointment with Robyn Halbrook, a nurse practitioner who specializes in urogynecology. Her treatment was percutaneous tibial nerve stimulation (PTNS).
PTNS is a nonsurgical treatment, similar to acupuncture, that provides an electrical stimulation to the nerves that are responsible for proper pelvic floor and bladder function. A small needle is placed near the tibial nerve at the ankle and then a stimulator is attached. Once connected, mild electrical pulses are sent through the nerve. Through treatments, patients have reported more control over bladder activity, without surgery and additional medications.
"I have many different health concerns, including two different forms of incontinence brought on by stress and urgency. This treatment is so important to me because it means one less pill I have to take. I'm on so many medications already for lupus and diabetes," said Yetz.
A different kind of appointment
As the cases of COVID-19 continued to spread throughout the Houston area and the Stay Home/Work Safe order was put in place, Yetz grew anxious. She was almost finished with her weekly treatments, but missing one meant starting all over. However, a personal visit to a medical facility during a pandemic was risky. Little did she know that Halbrook and the staff at UT Physicians Urogynecology Center – Sugar Land was already making arrangements for her.
"Cheryl's been a long-time patient of ours and I know her health history. When I saw her on the schedule, I knew she couldn't come in here. So, we came up with a plan and called her and asked if it was okay," said Halbrook.
The plan was to administer her PTNS treatment in the safety of her own vehicle.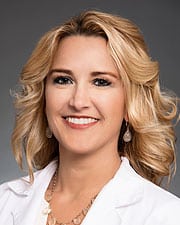 "This idea is a testament to Robyn and how much she cares for our patients," said Nina H. Dereska, MD, a urogynecologist at UT Physicians and assistant professor at McGovern Medical School at UTHealth. "She is always willing to go above and beyond."
When the treatment day came, Halbrook and her team assembled the necessary equipment and met Yetz outside in her vehicle. The entire process took approximately 30 minutes and afterward she returned home.
"I visit many doctors' offices and rarely do I encounter an entire office that feels like everyone cares for one another," said Yetz. "They decided they were going to take care of me. To them, it wasn't a big deal, but to me, it was."